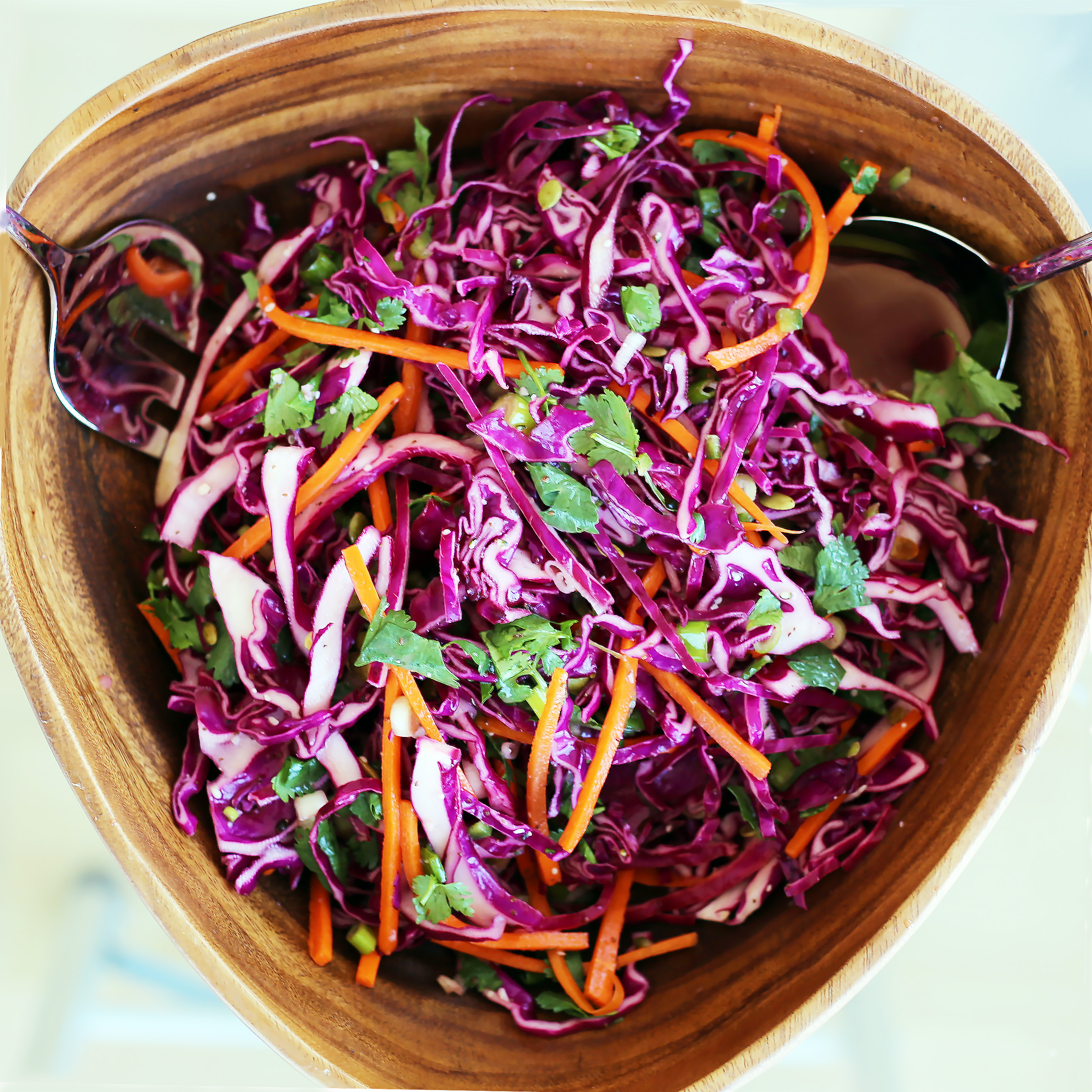 The coleslaw of my youth was a soggy sweet mess but this red cabbage slaw is the mad good. Plus, it's so loaded with nutrients and antioxidants that you're practically guaranteed to glow from the inside out. I think this may have just won a slaw beauty pageant. 😉 Definitely ready for it's closeup!
I like my slaw with "stuff" in it and this one is loaded. Carrots and jalapeño, green onion and cilantro, pepitas and hemp seeds – yum! Maximum crunch. Flavor and color galore. The vinaigrette is a mix of apple cider vinegar and lime juice together with garlic, a bit of honey, olive oil and celery seed – exactly what you need for the best, brightest slaw of your life. You are a bright, shiny star, red cabbage slaw!
Okay, yes, I might be losing it a little but I really can't help it. Can I just confess something? My home is an absolute circus right now. Definitely not ready for it's closeup. If this was an office, it would be considered a hostile work environment. Why is it that you're so ready for your kids to get out of school and they're driving you mental within a week? The boys may be the end of me. There is no end to their energy. No matter how much I get them outside, they turn our living room into a jungle gym. We are just one miscalculated jump off of the couch away from the ER.
But I digress. Let's take one more peak at the slaw…
Yep! Still gorgeous. Whip it up in advance and add the vinaigrette thirty minutes to an hour before serving. This little gem of a recipe will take you all the way into fall.
Red Cabbage Slaw
2016-06-26 14:05:57
Ingredients
2 tablespoons pepitas
1/2 cup apple cider vinegar
juice of 1 lime
1 tablespoon honey **
1 tablespoon olive oil
1 small clove of garlic
1/2 teaspoon celery seed
1/2 head red cabbage, shredded*
1 cup julienned carrot
1/2 jalapeño, seeded and deveined, finely chopped
2 green onions, chopped
kosher salt and pepper
1 teaspoon hemp seeds
1/2 cup roughly chopped cilantro leaves
Instructions
Heat a small skillet over medium heat. Add your pepitas. Stir frequently until they are lightly toasted with light brown bits. This will take 4-5 minutes tops.
Transfer your pepitas to a small bowl. Set aside.
Combine the apple cider vinegar, lime juice, garlic, celery seed, honey and olive oil in a small food processor. Blend until fully processed.
Place your cabbage, carrot, green onion and jalapeño in a large non-reactive bowl and toss with the vinaigrette. Season with salt and pepper to taste.
Cover and put the slaw in the refrigerator for 30 minutes to 1 hour. Stir after 15 minutes to redistribute the vinaigrette.
Add the pepitas, hemp seeds and cilantro shortly before serving. Stir to distribute evenly.
Enjoy!
Notes
* I shred mine on a mandoline. I also use my mandoline to julienne the carrots.
** If you are vegan (and don't eat honey) substitute maple syrup.
Kitchen Below Canal http://www.kitchenbelowcanal.com/
Comments
comments