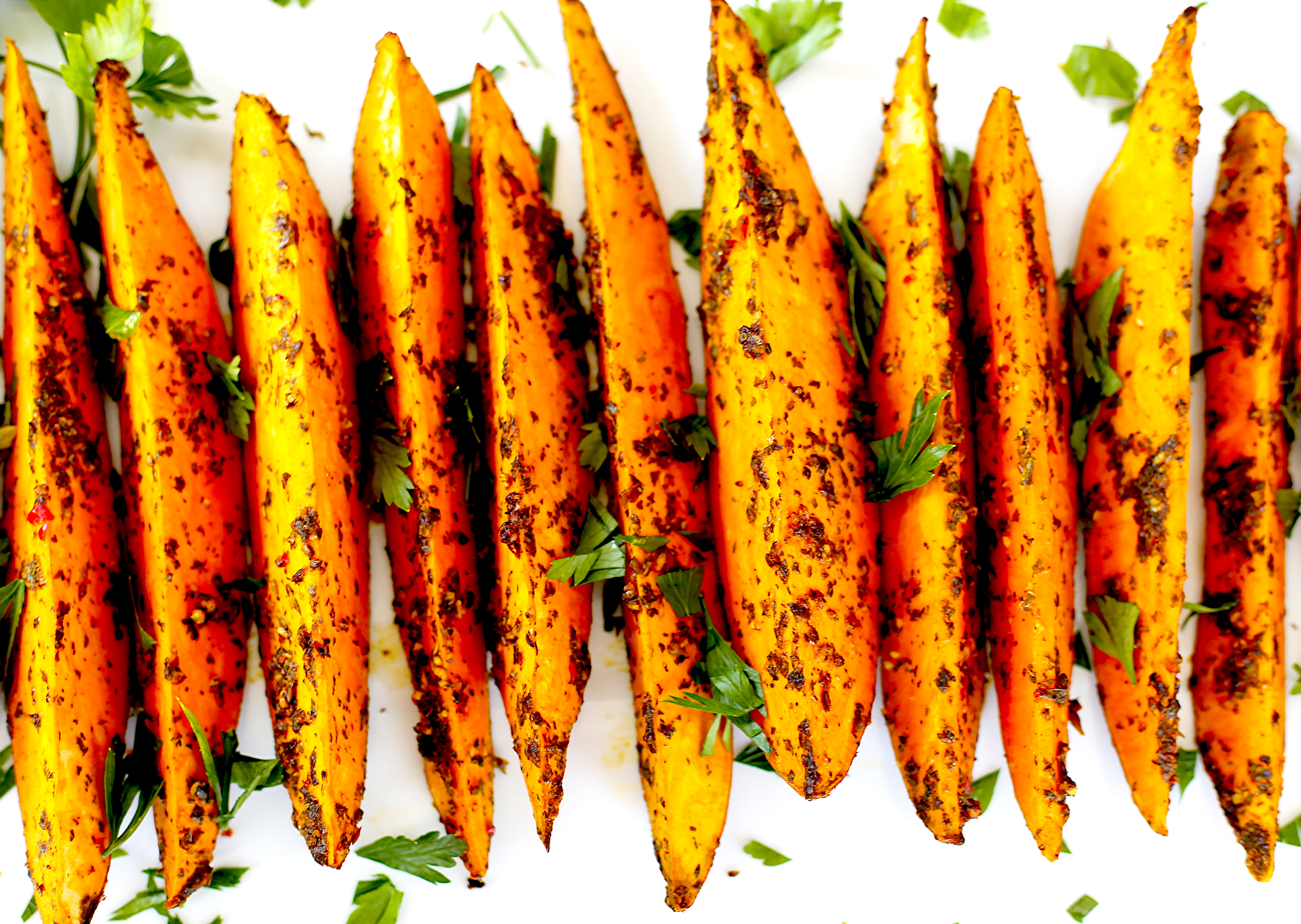 These roasted sweet potato wedges with chermoula are a winner! You should know that I have a slight chermoula obsession. Chermoula, in case you are not familiar with it, is like a Moroccan chimichurri. There is something about that combination of parsley and cilantro together with saffron, paprika, garlic and lemon that just gets me every time.
I typically use chermoula for fish (see here) but I wanted to create a simple vegan dish that would easily take you from now all the way into fall. The smoky sweetness of the potatoes with the chermoula is pure magic. You are honestly going to lose your mind over the heavenly smell when the potatoes are cooking. This is a perfect easy side for veggie burgers or fish sandwiches. If you are paleo, try this with some simple grilled fish with lemon. If you are looking for another side to go along with this, you might make a kale salad or toss heirloom tomatoes in a simple vinaigrette.
This dish is extremely easy to make. Put the ingredients for your chermoula in a small food processor and pulse them until they are a rough paste. Slice your sweet potatoes into wedges and toss them with the chermoula in a large mixing bowl. Spread them out on two parchment lined baking sheets and pop them in the oven for about thirty minutes give or take. And that, my friends, is pretty much it.
Roasted Sweet Potatoes with Chermoula
2016-08-09 14:11:10
For the chermoula
1/2 teaspoon cumin seeds
1/2 teaspoon coriander seeds
3/4 cup cilantro, roughly chopped
3/4 cup flat leaf parsley, roughly chopped (plus more for garnish)
1/4 cup olive oil or avocado oil
3 cloves garlic
2 teaspoons lemon juice
1 teaspoon lemon zest
1 teaspoon smoked paprika
1 good pinch of saffron
1/2 Fresno chile, seeds and veins removed
1 1/2 teaspoons kosher salt (plus more to taste)
For the sweet potatoes
3 large sweet potatoes or yams
chermoula (see recipe above)
kosher salt to taste
chopped flat leaf parsley for garnish
For the chermoula
Put your cumin and coriander seeds in a skillet over medium-high heat. Move the seeds around in the pan frequently until your seeds are lightly toasted. This will only take a minute or two. You are just looking for the seeds to get a bit of color and release a nice aroma.
Transfer the seeds to a small food processor.
Add the remaining ingredients for the chermoula to the food processor.
Pulse until all ingredients are very finely chopped. The mixture should be the consistency of a rough paste. You should still be able to see bits of the individual ingredients.
For the potatoes
Preheat your oven to 400 degrees.
Slice each sweet potato into eight wedges.
Toss the sweet potatoes with your chermoula in a large mixing bowl until they are evenly coated.
Line two baking sheets with parchment paper.
Divide the sweet potatoes evenly among the two baking sheets.
Put both baking sheets in the oven.
Roast the sweet potatoes for ten minutes. Remove them from the oven and turn the wedges.
Place them back in the oven and for another 15 to 25 minutes until the wedges are extremely tender on the inside.
Remove the sweet potatoes from the oven.
Taste one of the sweet potato wedges. You can add a bit more kosher salt at this stage if you would like but the sweet potatoes may not need it.
Arrange your sweet potatoes on a platter.
Add a bit of chopped parsley or cilantro on top of your potatoes for garnish.
Serve immediately.
Kitchen Below Canal http://www.kitchenbelowcanal.com/
Comments
comments