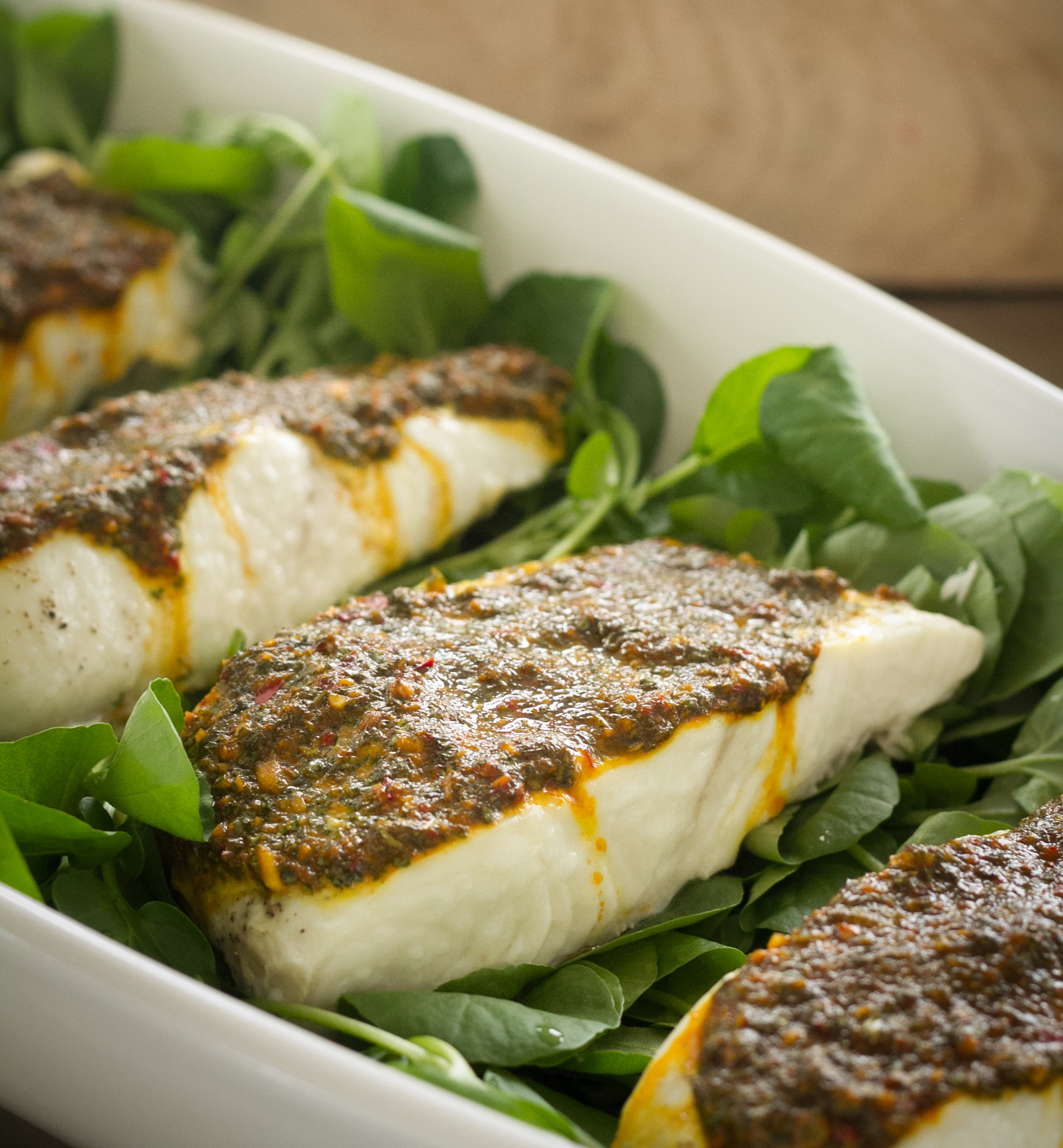 I honestly don't know what to say about this slow roasted halibut with chermoula except that you have to try it. This is getting a spot in the permanent rotation in our home. Slow roasting is such a great way to cook fish because it's almost impossible to mess up. The slow part is relative, by the way. This fish is perfectly cooked in about twenty-five minutes. There's no slaving over the stove. Just throw it in the oven and let it do its thing. You can't even imagine how tender and delicious this fish is when it comes out.
I'm guessing a number of you are wondering, "What in the heck is chermoula?"
Chermoula is a North African herb sauce. You might think of it as a Moroccan version of chimichurri as they both frequently contain cilantro, parsley, garlic and olive oil as their base. So what gives chermoula its distinctive flavor? In this recipe, it is the combination of smoked paprika and saffron. You know how certain flavor combinations totally, completely hit the spot? This is one of them. Smoky, earthy, herby deliciousness with just a hint of heat. I seriously wanted to take a victory lap around the kitchen the first time I made this. (Winner, winner!)
Chermoula is great paired with fish but I also love it with chicken and with vegetables.
This is a great recipe for entertaining because it requires very little last minute work on your part. You can make the chermoula in advance. When your guests have arrived, throw a bit of salt and pepper on your fish. Spread a bit of chermoula on the fillets and pop them in the oven. As long as you set a timer, you should be golden.
P.S. There are a few tools that I find handy when slow roasting fish. These are not things that you must have but they might make your life easier in case you are interested. First up is this baking rack. I like slow-roasting fish on a rack because it allows the heat to circulate all around the fish. You can certainly make do without one though. Next up is this fish spatula. Slow roasted fish is crazy tender and the fish spatula makes it so much easier to transfer the fillets to the plate without breaking them. Finally, let me point you in the direction of these fish bone tweezers. I'm sure I am not the only one who has gotten a beautiful fish fillet home from the market only to discover it is littered with bones. Removing the bones is a breeze with the tweezers.
Top Photo: Jaimie Baird
Slow Roasted Halibut with Chermoula
2016-02-25 12:26:34
Ingredients
1/2 teaspoon cumin seeds
1/2 teaspoon coriander seeds
3/4 cup cilantro, roughly chopped
3/4 cup flat leaf parsley, roughly chopped
1/4 cup olive oil (plus more for fish)
3 cloves garlic
2 teaspoons lemon juice
1 teaspoon lemon zest
1 teaspoon smoked paprika
1 good pinch of saffron
1/2 Fresno chile, seeds and veins removed
1/2 teaspoon kosher salt (plus more for the fish)
freshly ground black pepper
4 six ounce halibut fillets, skin removed*
Instructions
Preheat oven to 275.
Put your cumin seeds and coriander seeds in a skillet over medium-high heat. Lightly toast the seeds, shaking the seeds in the pan frequently. This will only take a minute or two. You are just looking for a bit of color and a nice aroma.
Transfer the seeds to the small bowl of your food processor. Add the cilantro. parsley, olive oil, garlic, lemon juice, lemon zest, smoked paprika, saffron, chile and salt. Pulse in your food processor until all ingredients are very finely chopped. The mixture should be a paste-like consistency but you can still see bits of the individual ingredients.
Place a sheet of parchment paper on a baking sheet. Place a wire baking rack (the kind that looks like a wire grid with squares) on top of the parchment paper.
Brush the bottoms of your halibut fillets with a bit of olive oil to prevent them from sticking to the rack. Place them on the rack.
Sprinkle the tops of your halibut fillets with a bit of kosher salt and a bit of freshly ground black pepper.
Spoon some of your chermoula over your halibut fillets. I probably use a couple of spoonfuls per fillet on average but don't worry about being exact. (You will still have chermoula left over.)
Put your fish in the oven and cook for about 25 minutes until your halibut is cooked through in the center. (Pay attention to the size of your fillets; if your fillets are larger or smaller than six ounces, you may need to adjust your cooking time.)
When the fillets are cooked through, remove them from the oven.
Put your extra chermoula in a small serving bowl to serve alongside the fish.
Serve your fish immediately.
Notes
Serves 4
* It is important to remove the skin from the halibut fillets. (You can have your fishmonger do this for you.) The skin will not crisp in the oven because of the low roasting temperature.
Kitchen Below Canal http://www.kitchenbelowcanal.com/
Comments
comments