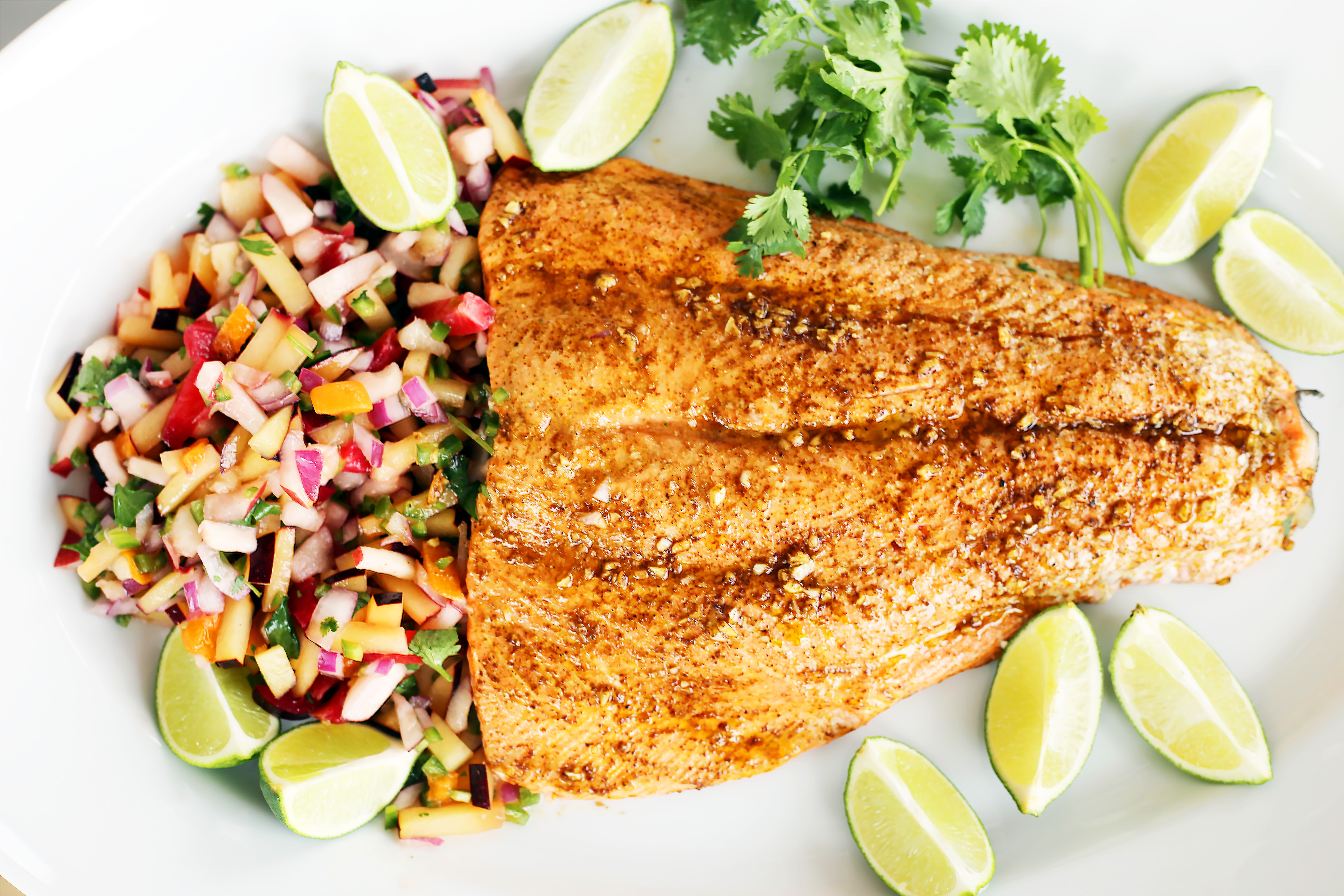 Roast chipotle-lime side of salmon with stone fruit salsa. Where do I even begin!? The first thing you should know is that historically, I haven't particularly cared for stone fruit. Maybe not the best way to lead in but it's true. My least favorite category of fruit for sure. I know that I am supposed to like it. How can you be from Louisiana and not like peach cobbler, for example? It was practically the eleventh commandment where I grew up. Thou shalt enjoy gumbo, jambalaya, po-boys and peach cobbler. I love the first three but the fourth – mmm, not so much.
But while you might not be able to sell me on peach cobbler, I am coming around on stone fruit. This salmon dish is crazy good. And the salsa? Oh-my-freaking-seasonal-goodness-you-need-to-make-this-right-now.
Every summer, I pass the stone fruit section of the market and I just keep right on walking. Heading for greener pastures, thank you very much. Avocados, fresh greens – that's more my jam. But this week, I decided to stop. I am a sucker for beautiful food and the stone fruit in the market is seriously gorg. Besides, I keep encouraging my kids to get out of their box when it comes to what they eat, so shouldn't I get out of mine? Peaches, plums, nectarines, apricots, pluots – I did it. I dove right in. And there was no doubt what I was going to do with them.
I have never met a fruit that I didn't like in salsa. Mango, pineapple and of course, stone fruit. Salsa is my gateway drug in the best, brightest possible way. Combine the sweetness of the stone fruit with the acidity of the limes and apple cider vinegar and you have a one way ticket to paradise.
But salsa is, of course, only part of the equation. I wanted a dish that could feed a crowd. There are six people living under my roof at the moment, including five permanent members and one temporary resident (plus one venerable wiener dog). This side of salmon was right up my alley. Just throw it into the oven with a bit of oil, chipotle powder, cumin and garlic plus a bit of salt and pepper and you're on a rocket ride to a delicious dinner. Ten to fifteen minutes is all it takes. Squeeze a bit of lime juice on top of the salmon. Load the salsa on the side. Dinner is served, people! And it's fantastic. Really.
Roast Side of Chipotle-Lime Salmon with Stone Fruit Salsa
2016-06-28 15:38:25
For the Salsa
2 cups of finely chopped stone fruit *
1/2 cup finely chopped red onion
1/4 cup roughly chopped cilantro
2 jalapeños, seeded, deveined and finely chopped
2 teaspoons freshly squeezed lime juice
2 teaspoons apple cider vinegar
Kosher salt
For the Salmon
1 tablespoon avocado oil or olive oil
1 clove of garlic, minced
1/2 teaspoon chipotle powder
1/2 teaspoon ground cumin
Kosher salt and pepper
1 side of salmon weighing 2 to 3 pounds
Lime
For Garnish
Cilantro
Lime Wedges
For the Salsa
Combine the stone fruit, onion, cilantro, cilantro, jalapeños, lime juice and apple cider vinegar in a non-reactive mixing bowl. Stir to combine.
Season with salt to taste. Set aside.
For the Salmon
Preheat oven to 450.
Combine the oil, garlic, chipotle powder and cumin in a small bowl. Set aside.
Place a sheet of parchment paper on a baking sheet and place the whole side of salmon, skin down, on top of the parchment.
Brush the chipotle oil mixture on top of the salmon, coating it thoroughly.
Season the salmon with salt and pepper.
Place your salmon in the oven and roast it for 10 - 15 minutes until the salmon is just cooked through.
When your salmon is done, carefully transfer it to a serving platter.
Squeeze a bit of lime juice on top of the salmon.
Spoon the stone fruit salsa at one end of the salmon.
Garnish with lime wedges and cilantro.
Serve immediately.
Notes
* Any varieties will do but choosing a mix of colors is visually appealing.
Kitchen Below Canal http://www.kitchenbelowcanal.com/
Comments
comments