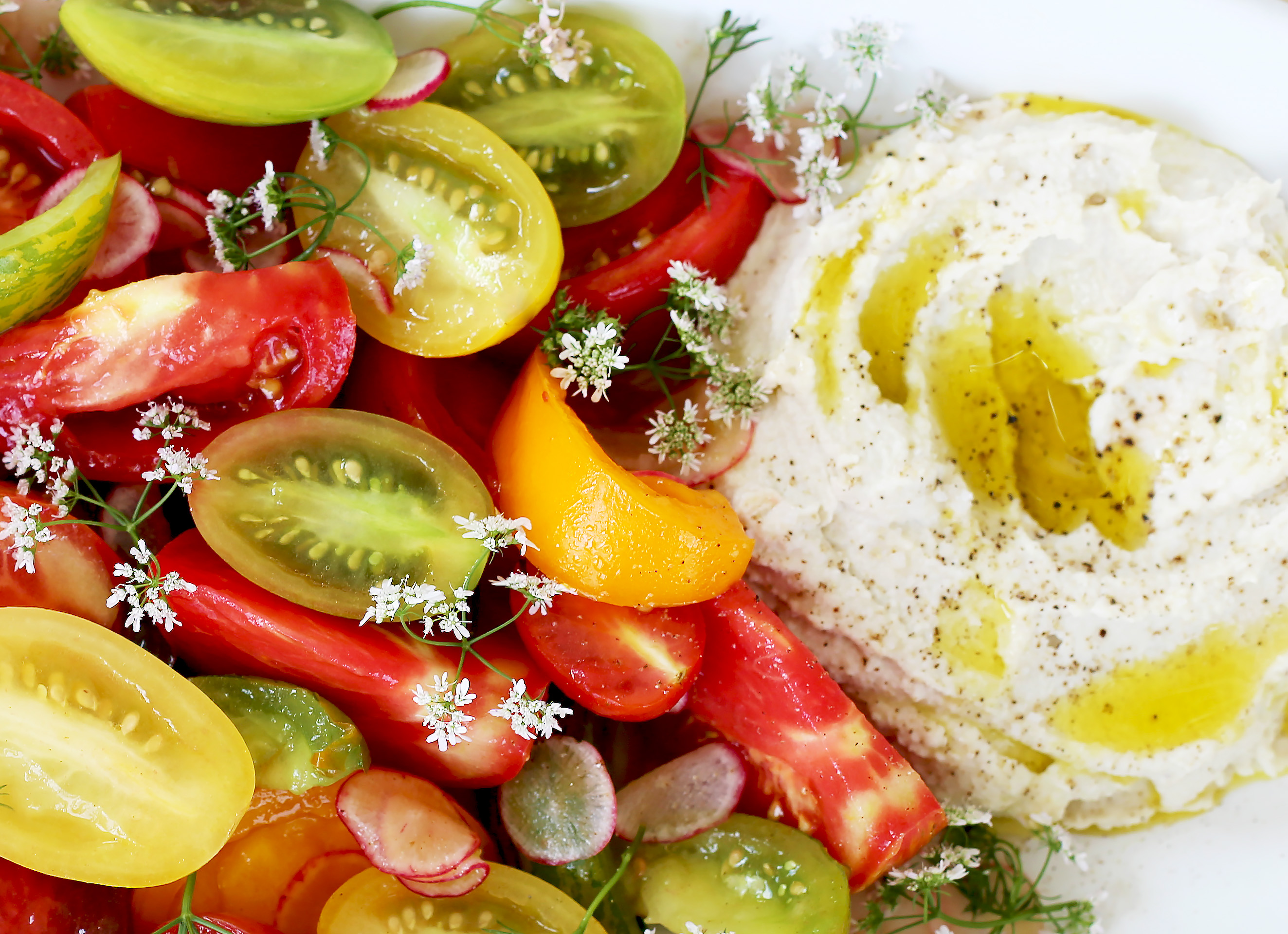 While I enjoy a plant-heavy diet, as most of you know, I am not vegan. There are very few foods that I just blanket won't eat. One of my favorite summer indulgences is heirloom tomatoes with burrata. And holy smokes, do I love a good burrata. It's so creamy and decadent but it's definitely not the sort of thing that I want to eat all the time.
I wanted to create a healthy riff on the dish, something that I could eat everyday. And that is how this dish, heirloom tomatoes with cashew ricotta, was born.
You guys, I am so psyched about this, I cannot even tell you. Prepare to have your mind blown. I knew it was futile to try to create a vegan burrata. (I mean, come on, there are limits.) But it is easy to create something more akin to ricotta and I am certainly not the first one to do it.
To make the ricotta, I started by soaking a cup of raw cashews for six hours. Now, if if you have never soaked cashews and you are the one thinking "Six hours!", please know that there is nothing to this. I simply plopped the cashews in a bowl of water before I took the boys to day camp this morning and by 2 pm, they were ready to go – easy peasy. When the cashews were done soaking, I transferred them to a food processor. I wanted to keep a bit of texture to the cashew cheese, similar to the texture of ricotta made from dairy. I added a bit of water to the cashews along with a bit of salt, nutritional yeast and garlic. I processed it all together, popped it in the fridge for about thirty minutes and that was it. Cashew ricotta, done.
This is prime tomato season and the heirloom tomatoes at the Union Square Greenmarket are divine! I honestly can't get enough. They are so ripe and flavorful this time of year that you really don't need to do much to them, do you? That's why the prep for these tomatoes is so simple.
Start with about two and a half pounds of tomatoes in various colors and sizes. Slice the larger tomatoes into wedges. The smaller ones, simply cut in half. Then, slice some radishes paper thin (on the mandoline if you have one) and add them to the mix. Dress the tomatoes and radish slices with the juice of half a lemon, a bit of olive oil and fleur de sel. The tomatoes will immediately start giving off their juices, which will help create the most lovely, simple dressing.
Spoon your cashew ricotta at one end of your serving dish. Dress your ricotta with good olive oil, fleur de sel and freshly cracked black pepper. Arrange your tomatoes and radishes on the serving dish as well. Then, spoon some of the juices over the tomatoes and garnish your tomatoes with a bit of flavorful herbs.
The gorgeous, flowery herb you see here is Delfino cilantro. I picked up at the farmers market. It is similar to regular cilantro but it's a bit more citrus-y and delicate in flavor. The greens look a lot like dill and the tiny flower blossoms are just beautiful. If you can't find Delfino cilantro, try regular cilantro or dill. Or see what other herbs looks interesting and play around! (Something like flowering chives could be really fun; I often see them at our farmers market, too.)
Serve the tomatoes and ricotta immediately because the tomatoes will start to lose volume but that is it. I had this for lunch, today, by the way and it was awesome. 🙂
Heirloom Tomatoes with Cashew Ricotta
2016-08-11 14:24:51
For the cashew ricotta
1 cup of raw cashews, soaked for 6 hours*
3 tablespoons water
3/4 teaspoon chopped garlic
1/4 teaspoon fleur de sel
1/4 teaspoon nutritional yeast
good quality olive oil for dressing your ricotta
fleur de sel for dressing your ricotta
freshly cracked black pepper for dressing your ricotta
For the heirloom tomatoes
2 1/2 pounds heirloom tomatoes, various sizes and colors
3 to 6 radishes, sliced paper thin (preferably on a mandoline)
juice of 1/2 lemon
1 tablespoon good quality olive oil
fleur de sel to taste (typically between 2 and 3 teaspoons)
fresh herbs for garnish**
For the cashew ricotta
Combine the cashews, water, garlic, fleur de del and nutritional yeast in a food processor. Puree until fairly smooth. The "ricotta" should still have a bit of texture but you should not be able to see pieces of the nuts.
Refrigerate for 30 minutes before serving.
For the heirloom tomatoes
Slice the larger heirloom tomatoes into wedges. Slice the small tomatoes in half.
Place the tomatoes in a large mixing bowl.
Add your sliced radishes to the bowl.
Add the lemon juice and olive oil.
Add fleur de sel to taste.
Gently (!) toss the tomatoes and radishes.
To Serve
Give the cashew ricotta a vigorous stir with a spoon to whip it up a bit and then spoon it on one end of your serving platter.
Generously drizzle some olive oil on top of the ricotta. Then add a sprinkle of fleur de sel and some freshly cracked black pepper.
Arrange your tomatoes and radishes on the serving platter.
Spoon some of the juices over the top of the tomatoes. (I generally use some of the juices but not all; I don't want the platter to be a soggy mess.)
Garnish tomatoes with some fresh herbs. Serve.
Notes
* Soak the cashews in enough water to cover them for six hours. Remove them from the water and discard the soaking liquid. If they soak for a bit longer that is fine but you may need to reduce the amount of water you use to make the cashew ricotta.
** I used Delfino cilantro, which I found at my local farmers' market. Regular cilantro or dill would also work but feel free to experiment. Your local farmers' market may have interesting herbs that are difficult to find in a supermarket.
Serves 4
Kitchen Below Canal http://www.kitchenbelowcanal.com/
Comments
comments