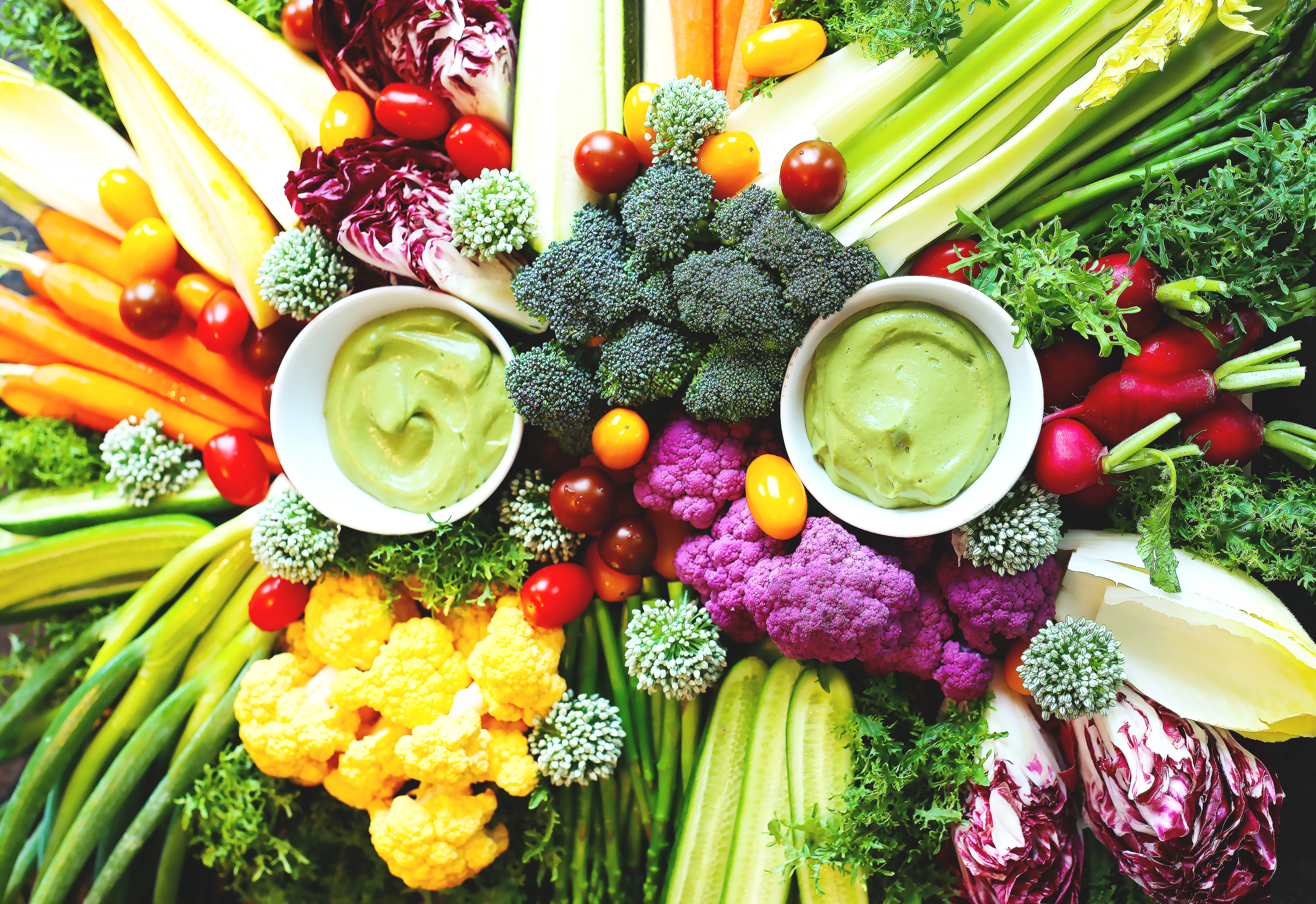 Happy 4th of July, everyone! I hope you are celebrating somewhere great with family and friends! Actually, anyplace is great as long as you are with family and friends, right? If you're with the people you love, that is everything.
We are here in New York this weekend. We were originally planning to hit the road but instead, we are heading out a week from now in search of much needed surf, sand and sun. We are celebrating, nonetheless, and we kicked things off with this gorgeous platter of crudités with some pretty fab vegan creamy herb dip. If you know me well, you know that I love a good dip. This one is one of the best! It's one of those things I serve again and again and again. No matter the crowd, the dip is always gone, so I feel safe in telling you it's a winner!
Like many of my other dips, this one starts with my signature eggplant-cashew base. It's legitimately healthy so no worries if you dive in head first! (I use a full pound and a half of eggplant to three-quarters of a cup of cashews, by the way; it is super creamy but it is by no means loaded with fat.) A trio of herbs lend boatloads of flavor – dill, cilantro and chives. Lemon, garlic, cumin, coriander, cayenne and good salt round out the flavors.
And hey, if there are other herbs you like, feel free to play around! This certainly isn't rocket science so have some fun. You can add or subtract a little of this or a little of that.
Can we have a chat about crudités while we're at it? I think that the secret to beautiful crudités is creating a sense of abundance. I like using a variety of veggies and I always, always let the market inspire me. I have been known to pull my veggies from two or three different sources in an effort to find the right balance of texture and color. My only hard rule is no baby carrots. Real baby carrots bear no resemblance to the whittled down bullets that you see in a bag in the market.
One more word of advice…Don't underestimate the amount of time that it takes to wash and cut your veggies. I do almost all of my veggie prep a day in advance.
In case some of you want to know exactly what is on the platter, here is the complete list: yellow squash, Belgian endive, carrots, mini cucumbers, scallions, radicchio, three varieties of tomatoes, zucchini, broccoli, purple cauliflower, orange cauliflower, celery, radishes and asparagus. I blanched and shocked the asparagus so that they would be just a bit tender but still have a crunch; there is no reason that you can't mix raw and lightly cooked veggies, by the way.
The beautiful frilly greens you see tucked in the nooks and crannies are golden frill mustard greens and those gorgeous little white blossoms are shallot flowers; I picked up both at the farmers' market earlier this week. (Be careful with shallot flowers! They look harmless but pack a punch.) But definitely grab some extra greens and/or herbs. They are perfect for filling in bald spots and they add dimension and interest to your platter.
One last thing – you don't actually need a platter at all. I created this display on a large butcher block. Easy peasy.
P.S. You might be interested in two other fantastic dips that are equally healthy and insanely delicious. Vegan French onion dip and vegan chili con queso. I know my way around a good dip. You won't be disappointed!
Vegan Creamy Herb Dip
2016-07-03 19:32:52
Ingredients
1 large eggplant, weighing around 1 ½ pounds
3/4 cup raw cashews
1/2 cup chives, roughly chopped, plus more for garnish
1/2 cup dill, roughly chopped
1/2 cup cilantro, roughly chopped
juice of 1 lemon
1 clove garlic
1 teaspoon salt (or more to taste)
¼ teaspoon cumin
¼ teaspoon coriander
¼ teaspoon cayenne
Instructions
Preheat oven to 450 degrees.
As soon as you start preheating your oven, place the cashews in a bowl with enough water to cover them. Cover the bowl and set aside. The cashews need to soak for two hours. If they soak a bit longer, it's okay but soaking for an extended period of time will thin out the dip.
When your oven has reached 450, put the whole eggplant uncovered in a baking dish. Don't prick it with a fork.*
Bake for approximately 45 minutes to 1 hour. Your eggplant is done with a fork slides in easily to the center.
Remove the baking dish from the oven and cover loosely until cool enough to handle.
Cut the top off of the eggplant. Remove the skin of the eggplant and discard. Make sure that you retain any liquid that has seeped out of the eggplant; do not discard that liquid.
When the cashews are just about done soaking, place your eggplant, together with any liquid from the eggplant that seeped out, into a high speed blender. Puree until smooth.
Remove the cashews from the soaking liquid and place them in the blender together with the eggplant. Discard the soaking liquid.
Pulse until the cashews and eggplant start to come together, scraping down the sides of the blender and redistributing the mixture as necessary.
Blend the mixture at a high speed until smooth and creamy.
Transfer the eggplant-cashew mixture to a bowl and cover. Refrigerate until fully chilled.**
When the mixture is chilled, transfer it back to the blender.
Add all remaining ingredients.
Puree until totally smooth.
Taste the dip. If it needs a bit more salt (I often add a bit more) adjust accordingly.
Serve and enjoy!
Makes a generous amount of dip. Excellent with crudités.
Notes
Serves 6-8
** The eggplant will normally retain its shape but if it pops a bit and deflates, it's fine. Simply retain the liquid that seeped out and transfer it to your blender with the eggplant.
** It is important that the eggplant-cashew mixture chills thoroughly before you puree it with the herbs. If the eggplant is still warm when you add the herbs, the herbs may lose their bright green color.
Kitchen Below Canal http://www.kitchenbelowcanal.com/
Comments
comments