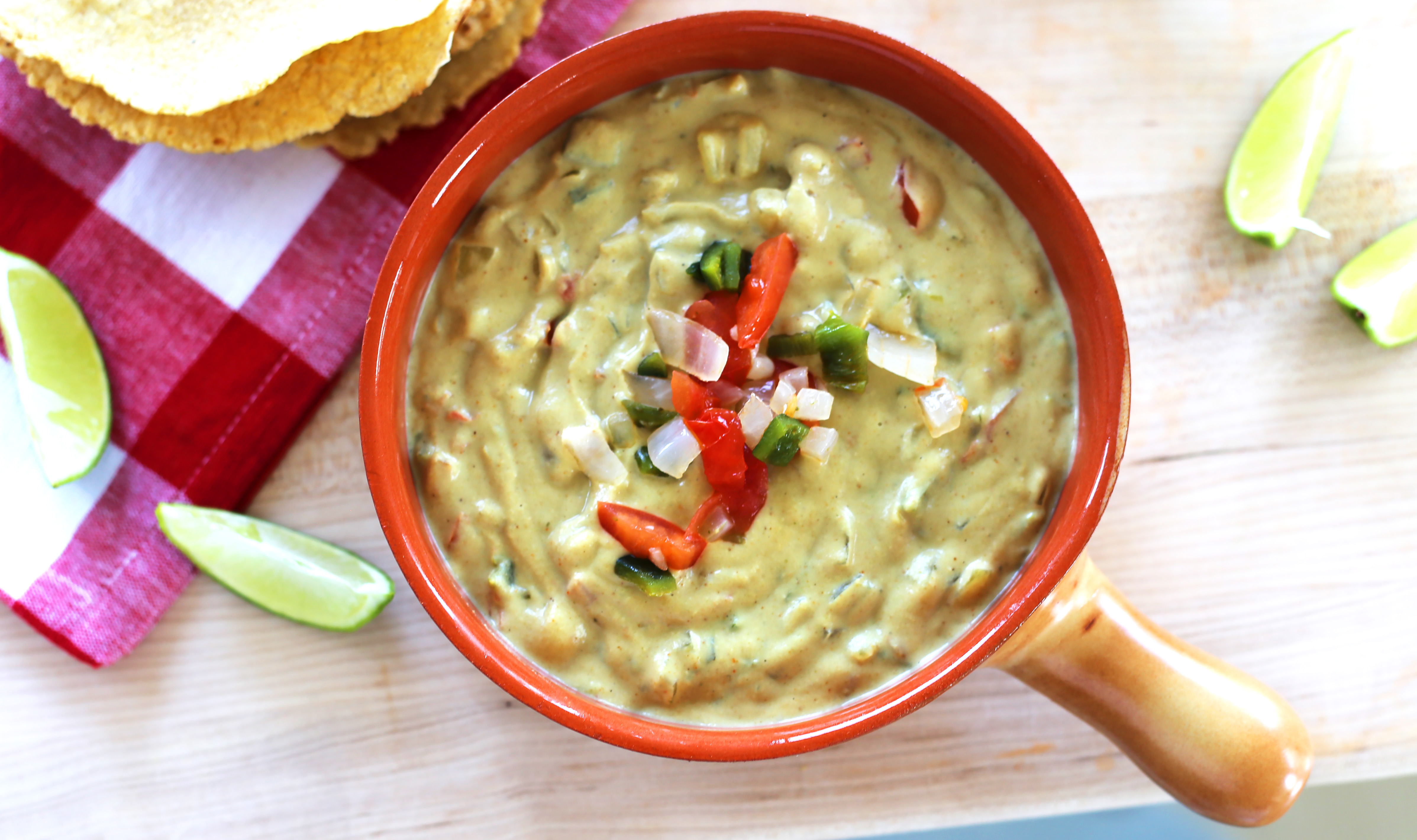 My vegan chili con queso is totally famous. (Among a very small group of girls who may or may not get a little too rowdy over a good potluck and good wine on an occasional Friday night. 😉 ) No judging, please. I like a little fun with my healthy. Besides, who doesn't like to moonwalk across a kitchen singing Welcome to the Jungle?

But no joke, I kid you not when I tell you that this queso is off the charts. I tweaked this recipe on and off for a month. I take my queso seriously, whether it is vegan or non-vegan, and I do appreciate both. Aside from the aforementioned gaggle of lady friends, this chili con queso has passed the test of meat-eating dudes and I feel like I should put DUDES in all caps. The DUDES inhaled it. I feel totally comfortable with a recipe mic drop.
In Louisiana, when you refer to the trinity, you are most likely referring to celery, bell pepper and onions (no offense to the Father). This queso is anchored by a slightly different trinity – fresh poblano peppers, firm ripe tomatoes and white onion. There are no canned tomatoes or canned chili peppers in this queso and you can totally taste the difference.
So how does it all work? I char the poblanos directly on the stove. It's easy; just turn them periodically with some tongs. Then, let them cool and that blackened poblano skin washes right off, leaving just the soft green smoky pepper inside. Remove the stem and seeds. Chop the peppers and it's pepper heaven. Fresh tomatoes, onions, I mean really, what more do you need?
Okay a little more, but I have you covered with a super creamy, delicious eggplant-cashew base that is the anchor of many of my dips. Add to that nutritional yeast – don't let me lose you on the freaking yeast – it's a terrible name for something that's actually good. And it's what gives the queso that deliciously savory cheesy flavor you need. Throw in a bunch of spices that are just spot on and your queso is ready!
I totally get that some recipes take a bit more effort than others and this one is not a one step wonder. But if you really want to wow yourself and your favorite people, this is worth it. You can do all of the prep in advance, by the way. I have often prepped the ingredients a day in advance and then thrown it all together at the last minute. But you can also make the whole dip in advance. It still tastes crazy fresh a day later and it holds up quite well over the following days.
With that said, I really hope you try this. Feel free to message me if you have questions!
Vegan Chili Con Queso
2016-05-24 07:21:15
Ingredients
1 large eggplant, weighing approximately 1 1/2 lbs.
1 cup cashews
3 fresh poblano peppers
1 tablespoon olive oil
2 cups chopped white onion
1 cup chopped tomatoes
1 1/2 cups water
3/4 cup nutritional yeast
2 teaspoons salt
1 teaspoon cumin
1 teaspoon garlic powder
1/2 teaspoon onion powder
1/4 teaspoon ground coriander
1/4 teaspoon cayenne
1/4 teaspoon chili powder
1/4 teaspoon chipotle powder
juice of 1/2 lime
Instructions
Preheat oven to 450 degrees.
While your oven is preheating, measure out all of your spices and prep your tomato and onion if you haven't already.
Also while the oven is preheating, place the cashews in a bowl with enough water to cover them. Cover the bowl and set aside. The cashews need to soak for two hours. If they soak a bit longer, it's fine but soaking for an extended time will thin out the dip.
When the oven has preheated, put the whole eggplant uncovered in a baking dish. Don't prick it with a fork. It will be fine, even if it cracks or wilts a bit. Bake for 50 minutes to an hour until a fork slides into the eggplant easily.
While your eggplant is in the oven, char your poblanos. To do this, place your poblanos on the grates of a gas stove directly over the flame. Let the skin of the poblanos get black without burning the interior. Use a pair of tongs to rotate your poblanos as needed. Your poblanos are done when the exterior of the poblanos is almost entirely black; but if there are a couple of nooks and crannies that stay green, no worries.
When your poblanos are charred, transfer them to a dish to cool.
When they are cool enough to handle, wash off that blackened skin under gently running water. Remove the core, ribs and seeds of the poblanos and then chop them.
When your eggplant is done, remove the baking dish from the oven and cover loosely with foil until cool enough to handle.
When your eggplant is cool enough, cut off the stem. Remove the skin of the eggplant and discard. But make sure that you retain any liquid that has seeped out of the eggplant.
When the cashews have soaked for two hours, remove them from the soaking liquid and discard the soaking liquid.
Place the cashews in a high speed blender (I use a Vitamix) together with the eggplant and any liquid that seeped out of the eggplant. Add the water and pulse until the mixture starts to come together. Then, puree until totally smooth.
Choose a saucepan that is large enough to hold all of your ingredients (including all of your vegetables and the eggplant-cashew mixture).
Heat the avocado oil in the saucepan over medium high heat.
Add your onion and cook for a few minutes until onions are translucent, stirring occasionally.
Add your tomatoes and poblanos, cooking for a couple of minutes more.
Reduce stove to medium-low heat. Add all of your seasonings and spices - nutritional yeast, salt, cumin, garlic powder, onion powder, coriander, cayenne, chili powder and chipotle powder. Stir and let the spices meld with your vegetables for another minute.
Add your eggplant-cashew dip base. Stir until all ingredients are fully incorporated.
Turn off heat. Cover and let dip rest for five minutes.
Squeeze the juice of 1/2 lime into your queso and stir.
Serve and enjoy!
Kitchen Below Canal http://www.kitchenbelowcanal.com/
Comments
comments