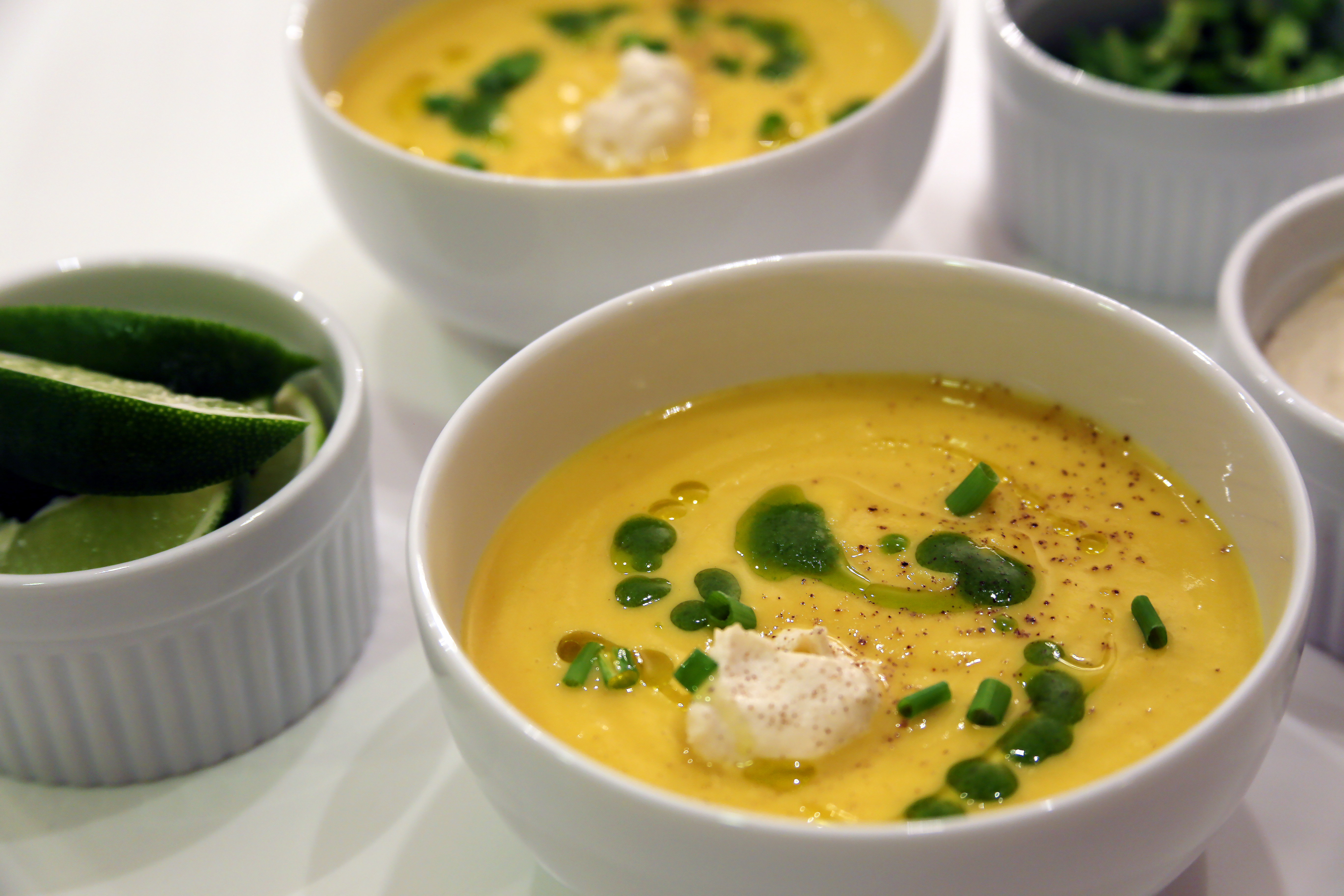 Can we just have a conversation about the colors in this vegan roasted acorn squash soup? This is the genius of mother nature. I am so psyched about how this turned out. Beautiful and insanely delicious.
When you see acorn squash soup recipes, you often see ingredients that aren't so good for you – like butter or cream – along with classic herbs like thyme or sage. I wanted to go in a different direction. On its own, acorn squash is quite sweet. So what if we play against that and hit it with a bit of acidity? There are a couple of ingredients that make this acorn squash soup unique.
They are my cashew sour cream, which is in the soup as well as on top of it, and freshly squeezed lime juice, which you add just before eating. I generally just pass around lime wedges when serving. I love this soup for dinner parties. It can be made in advance and reheated, which is always a plus.
I find that some of my friends are intimidated by large squashes but there's really no need to be. What if I told you that you could throw the squash in the oven whole without even having to cut it? It's true! Putting this acorn squash in the oven is as simple as baking a potato. So let's get started!
Roasted Acorn Squash Soup with Cashew Sour Cream
2015-12-09 10:13:10
Serves 8
For the cashew sour cream
2 cups raw cashews
Juice of 1/2 lemon
1/2 cup water
3/4 teaspoon salt
1/2 teaspoon onion powder
1/4 teaspoon cumin
1/8 teaspoon garlic powder
For the herb oil
1 cup olive oil
1/2 cup chopped chives (plus more for garnish)
1/3 cup roughly chopped dill
1/8 teaspoon salt
For The Soup
3 acorn squash (approximately 2 pounds each)
1 tablespoon olive oil
2 cups chopped white onion
4 cloves chopped garlic
6 cups vegetable stock
juice of 1/2 lemon
1 cup cashew sour cream plush more for serving (recipe below)
4 teaspoons salt (or to taste)
1 1/2 teaspoons cumin
cayenne pepper to taste (generally somewhere between 1/4 and 1/2 teaspoon)
For serving/garnish
olive oil
chives
freshly ground black pepper
herb oil (see above)
cashew sour cream (see above)
For the cashew sour cream
Place the raw cashews in a bowl with enough room temperature water to cover them. Soak your cashews for two hours.
Once your cashews have soaked for two hours, remove them from the water they were soaking in. Discard the soaking liquid. Place the cashews in a high speed blender. Add the lemon juice, fresh water, salt, onion powder, cumin and garlic powder. Pulse your blender to get the cashews going. You may need to scrape the sides down several times before things start to come together. It WILL come together! Then blend until totally smooth. I definitely prefer a blender to a food processor for this job. It takes a bit of patience in the beginning but the end result is creamier. Store the sour cream in your refrigerator until chilled.
For the herb oil
Put all ingredients in a small food processor or blender and blend until smooth. I like to use a mini food processor for this. An immersion blender also works. (Standard food processors and blenders can also work in a pinch.) Refrigerate immediately.
Note: If you are making the soup in advance, wait to make the herb oil the day you are serving the soup. The bright green color of the herbs can fade a bit over time.
For the soup
Preheat your oven to 450.
When your oven is hot, place the three uncut acorn squash on a parchment lined baking sheet. Bake in the oven until a fork slides into each squash easily without resistance. This usually takes around 55 to 60 minutes. You want the inside of your squash to be soft enough to scoop.
When the squashes are done cooking, remove them from the oven. Let them cool until they are comfortable to handle.
Once you can comfortably handle the squash, split each squash into quarters. Remove and discard the seeds. Then remove the skin of the squash. A lot of it will generally peel right off but you can use a knife if you need to. Discard the skin. Cut the squash into large chunks.
Heat your olive oil in a large stock pot over medium high heat. Add the onions and cook until translucent. Add the garlic and cook for a minute more.
Lower the heat to medium. Add the acorn squash, vegetable stock, lemon juice, one cup of cashew sour cream, salt, cumin and cayenne. Blend soup with an immersion blender until totally smooth. Alternatively, you can blend the soup in a high speed blender but you will need to do this in two to three batches; there is too much soup for one go.
Heat the soup in your stockpot until it is warm enough to serve. Taste it. Add salt if necessary.
To Serve
Ladle the soup into serving bowls. Drizzle each bowl with a few drops of olive oil. Drizzle with a bit of the herb oil. Add a dollop of cashew sour cream. Sprinkle with a few chives. Add a bit of freshly cracked black pepper. Serve each bowl with a wedge of lime. Enjoy!
Notes
To prep this soup, I usually work in the following order: a) Set the oven to 450 degrees.
b) Then immediately start soaking your cashews; this requires less than 1 minute of active prep time but the cashews need to soak for two hours. c) Then make the herb oil. This is quick. (Exception: If you are preparing the soup in advance, wait to make the herb drizzle until the day you are serving. The herbs may lose a bit of their bright green color over time.) d) As soon as the oven has reached 450, pop the acorn squashes in the oven. You can take it from there!
This cashew sour cream recipe makes enough for the cup you need to go in the soup together with the amount you need to put a small dollop of the sour cream in each bowl. But it's so delicious, I occasionally double the recipe. I use the sour cream for everything!
Kitchen Below Canal http://www.kitchenbelowcanal.com/
Comments
comments