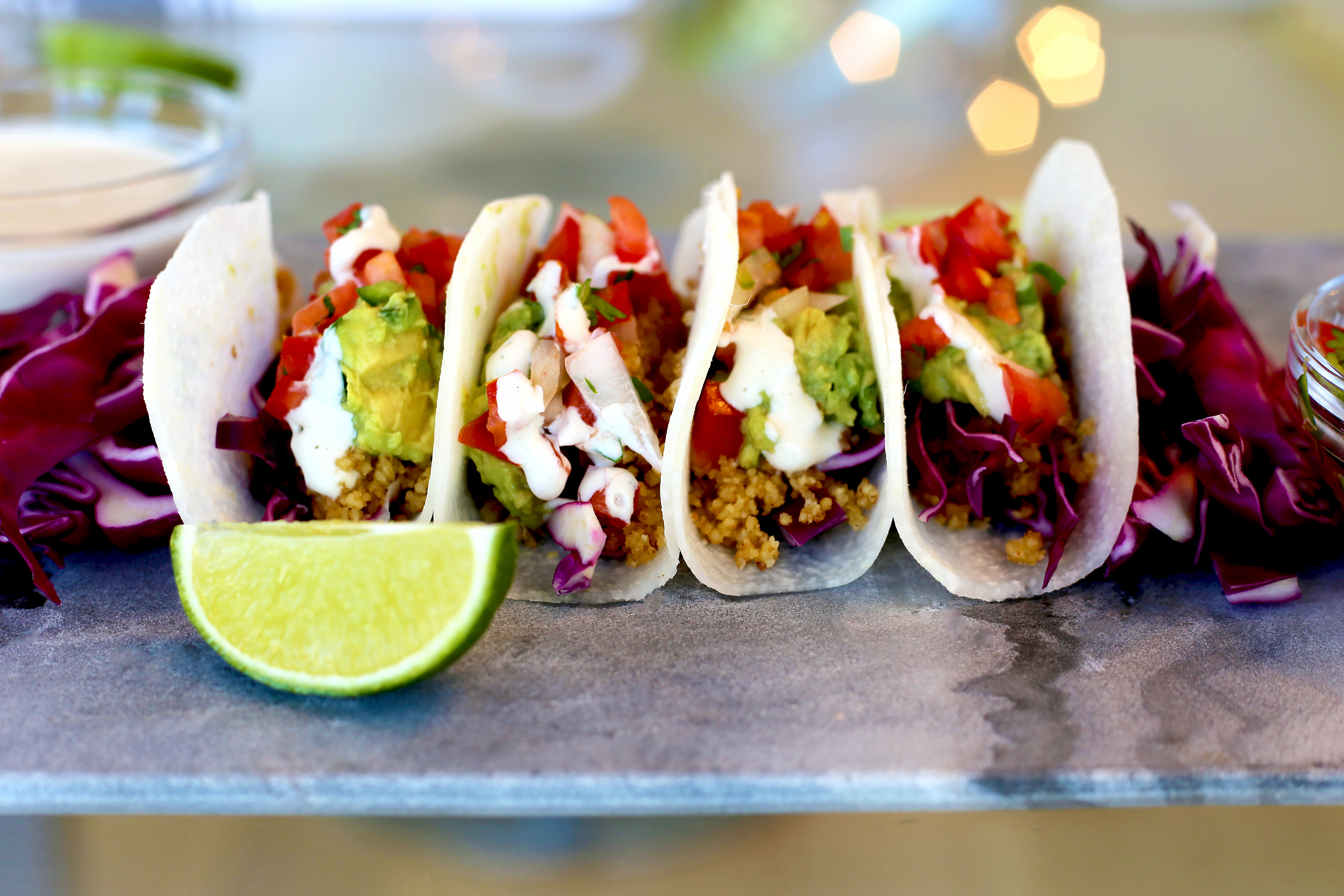 These nut meat tacos with jicama shells are my gateway drug to raw vegan food. I love nut meat tacos and if you haven't tried them, you should! This was dinner last night and in a couple of hours, it will be my lunch, too. When your Meatless Monday slides right into your Taco Tuesday, it cannot be a bad thing.
If you haven't made anything like this before, let me assure you that there is nothing to it. My nut meat is simply walnuts that have been pulsed in the food processor along with olive oil, ancho chile powder and a few other spices. It only takes a couple of minutes to make and it's delicious. The jicama taco shells are simply raw, peeled jicama that has been sliced thin on a mandoline. Unless you are a sushi chef, you probably cannot slice the jicama thin enough without a mandoline but you could always do lettuce wraps if you don't have one.
Jicama makes beautiful taco shells, by the way. They are slightly sweet, crunchy and flexible. Squeeze a bit of lime on the shells right before serving for a nice zing. Did you know that jicama is relatively low in carbohydrates and high in vitamin C, by the way? Many people consider jicama to be paleo-friendly but I am not about to engage in a debate.
In terms of toppings, you will want to download these recipes for classic guacamole and pico de gallo. I also added a bit of cashew crema (like drizzly sour cream) on top of the tacos. You can find that recipe below along with the taco recipe. Happy Taco Tuesday, indeed!
Raw Vegan Nut Meat Tacos with Jicama Tortillas
2016-08-16 16:03:27
For the Nut Meat
2 cups of raw walnut halves
1 clove of garlic
2 tablespoons olive oil
1/4 teaspoon cumin
1/4 teaspoon coriander
1/8 teaspoon ancho chile powder *
kosher salt to taste
For the Jicama Tortillas
1 jicama, cleaned and peel removed **
lime (for squeezing a bit of juice on the jicama before serving)
kosher salt (to lightly sprinkle on the jicama before serving.
For the Cashew Crema
1 cup of raw cashews, soaked in enough water to cover them for two hours
1 cup of cold water
juice of 1/2 lemon
1/8 teaspoon cumin
1/8 teaspoon garlic powder
1/8 teaspoon onion powder
kosher salt to taste
Toppings for Serving
Classic Guacamole ***
Pico de Gallo ***
Cashew Sour Cream
Red Cabbage, thinly sliced
For the nut meat
Put all of the ingredients for the nut meat in a food processor and pulse until the texture resembles crumbly taco meat. Do not over blend or you will end up with nut butter.
For the jicama tortillas
Slice the jicama very thin on a mandoline but make sure that you are consistently getting even rounds. On my mandoline, I am able to get rounds that are about 1/16 inch thick.
Before serving, squeeze a bit of lime juice (just a small amount) on each jicama round and sprinkle with a tiny bit of salt.
For the cashew crema
Transfer the soaked cashews to a high speed blender and discard the soaking liquid.
Add the cold water, lemon juice, cumin, garlic powder, onion powder to the blender.
Blend until totally smooth and creamy.
To assemble the tacos
Place a bit of red cabbage on each jicama taco shell.
Add a generous bit of nut meat on top of the cabbage.
Add a good dollop of guacamole.
Add a bit of pico de gallo.
Drizzle with the cashew crema.
Notes
* It is ok to substitute regular chili powder blend if you cannot find this. You can definitely purchase ancho chile powder on Amazon.
** Choose a jicama that is large enough so that you have a decent sized shell but not one so large that you cannot slice it on the mandoline.
*** Be sure to download the Kitchen Below Canal recipes for classic guacamole and pico de gallo!
Serves 4
Kitchen Below Canal http://www.kitchenbelowcanal.com/
Comments
comments