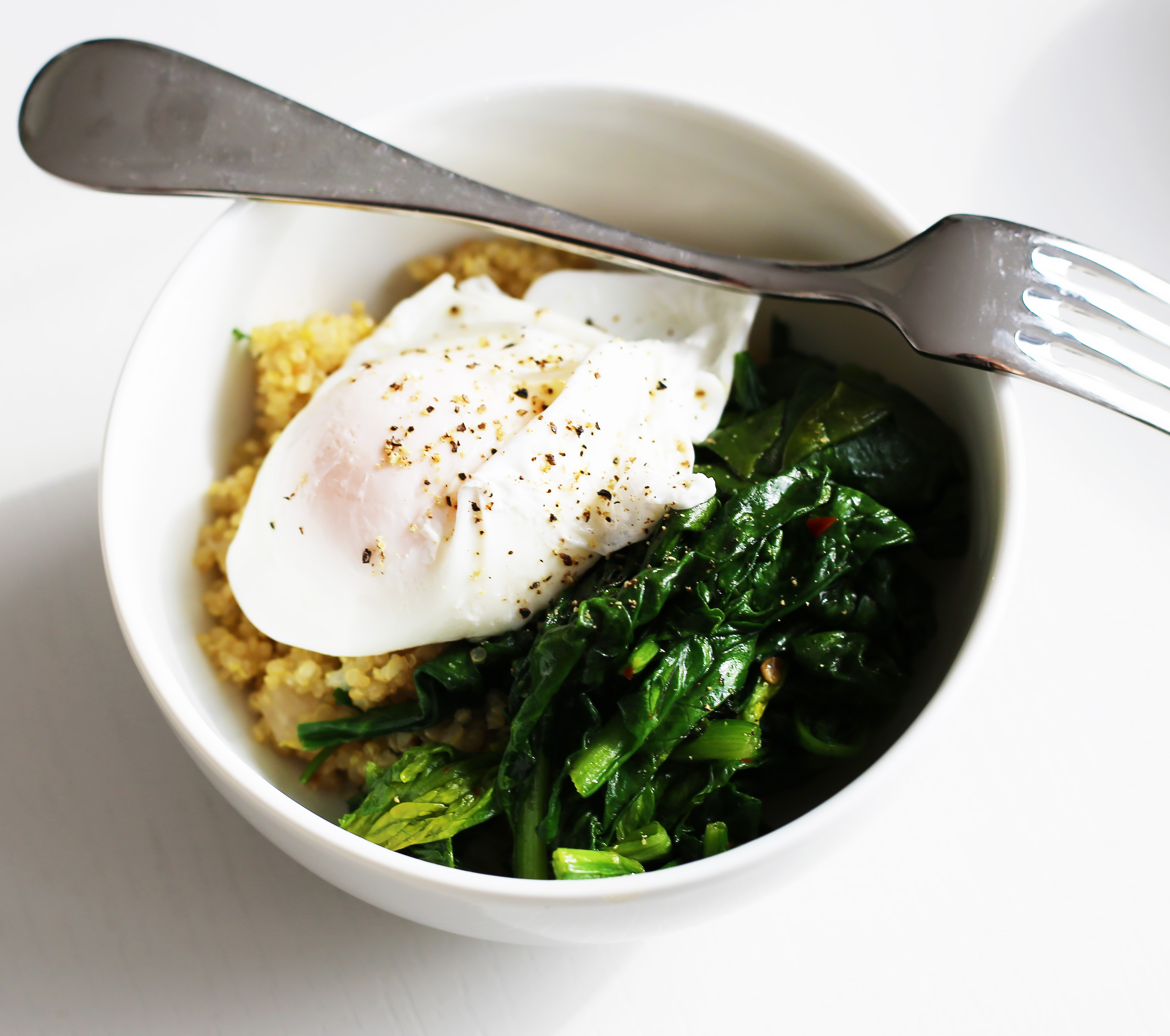 Poached egg with sautéed spinach and lemon-cilantro quinoa is one of my favorite weekend breakfasts. It's warm and hardy – all of the oozy goodness of eggs benedict minus the undesirable food coma afterwards. While fruity smoothies and bowls might dominate my Instagram feed, I'll take this warm, savory breakfast every time!
I mean, seriously! It's crazy to think that something so yum could actually be good for you.
Poaching is my absolute favorite way to cook eggs. Did you know that perfectly poached eggs take only four minutes? The white is set but the yolk is still runny. One of the best tips I have for perfectly poached eggs is to use really fresh, cold eggs. Old eggs equal runny whites and runny whites have a tendency to spread during the poaching process. It really does make a difference!
P.S. My favorite method for cooking quinoa comes from the amazing team at America's Test Kitchen. They know what they're doing over there! You should definitely check them out.
Poached Egg Over Sautéed Spinach and Lemon-Cilantro Quinoa
2016-01-21 13:19:28
Lemon-Cilantro Quinoa
1 1/2 cups quinoa
1 tablespoon olive oil
1 cup chopped white onion
1 clove garlic
1 2/3 cups water
Juice of 1/2 lemon to 1 lemon
1 teaspoon lemon zest
1/4 cup roughly chopped cilantro
3/4 teaspoon salt
Sauteed Spinach
1 lb fresh spinach
2 tablespoons olive oil
1-2 teaspoons crushed red pepper (2 teaspoons has more kick)
salt to taste
Poached Eggs
6 large eggs
2 tablespoons apple cider vinegar
salt
freshly ground black pepper
For the Quinoa
Put dry quinoa in a saucepan over medium-high heat. Stir until quinoa starts to give off a nutty fragrance and you begin to hear popping sounds. (This will take about 5 minutes give or take.) Transfer the dry quinoa to a bowl and set aside.
Add 1 tablespoon of olive oil to your empty saucepan. Give the oil a chance to warm up (over medium high heat) for about a minute. Add the onion to the pan. Cook until the onions are translucent. Add the garlic and cook for a minute more.
Add the water, quinoa and salt to the saucepan. Bring the water to a simmer. Cover the saucepan and reduce the heat to low. Allow the quinoa to simmer for 18 to 20 minutes. The quinoa should be tender without excess liquid.
Remove the saucepan from the heat. Fluff the quinoa with a fork. Re-cover the saucepan and allow the quinoa to sit for 10 more minutes.
Stir in the lemon juice, lemon zest and cilantro just before serving.
For the Sautéed Spinach
Wash and dry your greens thoroughly. Trim the stems of the spinach leaves.
Heat the olive oil in a Dutch oven (or other large pot) over medium heat. Add the crushed red pepper to the oil and let the flavor from the pepper meld with the oil for about a minute.
Add your spinach to the pot. Salt to taste. Coat the spinach with the oil by carefully tossing the spinach in the pot. (Tongs are your best friend for this if you have them.) Then cover the pot and allow the spinach to start wilting for two minutes.
Uncover the pot. Toss the spinach again and increase the heat to medium high. Continue tossing the spinach until the leaves are wilted but not totally soggy.
Remove the spinach from the heat. Taste and adjust salt if necessary. Set aside until you are ready to serve.
For the Poached Eggs
Choose a wide pan that is at least 3 inches deep.*
Fill the pan 1/2 to 3/4 of the way full with cold water, depending on the depth of your pan. It's important that your pan has enough water to cover the eggs by at least 1 inch.
Add 2 tablespoons of apple cider vinegar.
Bring the water to a soft boil, then reduce the heat to just below a simmer. You want to see tiny bubbles but nothing more.
Crack an egg into a 1/2 cup measuring cup or small ramekin and gently ease into the water. Repeat with the other eggs. Cook for four minutes.
Remove the eggs with a slotted spoon and serve immediately.
To assemble, put some of your quinoa in each bowl. Top with some greens and one poached egg per bowl. Add a bit of salt and freshly ground black pepper on top of each egg. Enjoy!
Notes
* If your pan is not wide enough to easily contain all of your eggs without them touching, poach your eggs in batches.
** My method for cooking quinoa comes from America's Test Kitchen.
Kitchen Below Canal http://www.kitchenbelowcanal.com/
Comments
comments