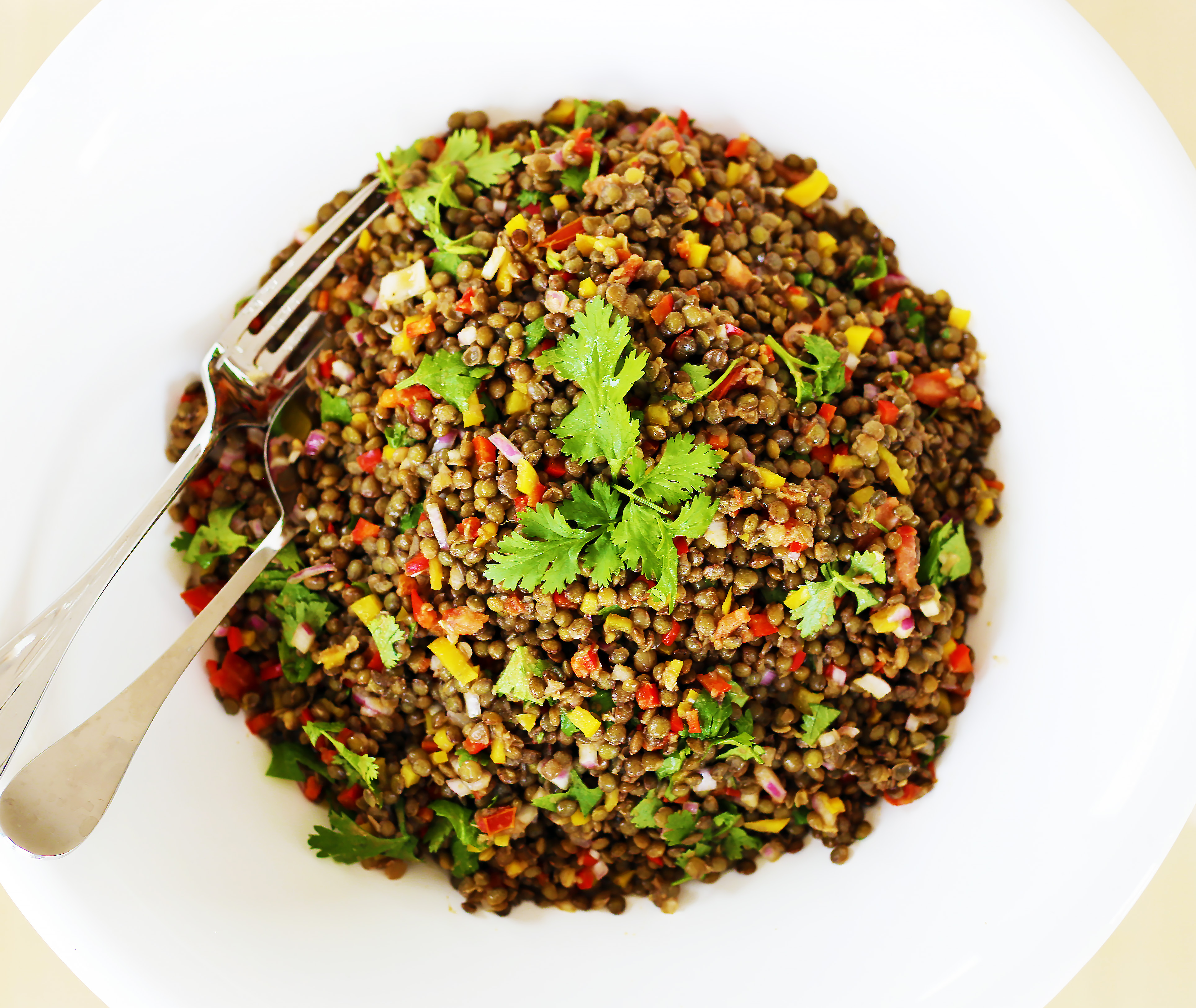 How have I been existing without this lentil salad in my life!? If you have been following Kitchen Below Canal on Instagram, you might know that I have been in St. Barts for the majority of the last couple of weeks. I documented many of my favorite dishes on the island but there were loads of others that didn't make the cut for reasons that had nothing to do with the food itself – the quality of the photographs, the desire to not be the person who over-posts, whatever. But when I looked back at my photos, I realized that one of my favorite spots to eat on the island wasn't in my pics at all.
Maya's to Go is a tiny little gem of an eatery directly across from the airport. And as the name suggests, it's the perfect place for takeout. There were so many dishes I loved, the seared tuna, mahi mahi, tomato salad, the asparagus, the beets. But their lentil salad was one dish I wanted to take home with me. It definitely got my wheels turning so I decided to put my own spin on a lentil salad. Maya's, I love you. Missing you already. (P.S. The reason I don't have photos of your food is that I was too busy eating it. 😉 )
Now onward to the lentil salad. It doesn't take much to make a lentil salad fabulous. Here's what you need. Start with French green lentils. Does it matter? Yes. They have more texture and flavor than larger lentil varieties and that makes for a superior salad. I find them in the Whole Foods bulk bins.
Lentils don't take long to cook – about twenty-five minutes. When your lentils are just done, transfer them to a large mixing bowl. Add to your lentils some red onion, tomato, red bell pepper and yellow bell pepper. Mix in a simple vinaigrette of olive oil, apple cider vinegar, cumin, coriander, cayenne, kosher salt and black pepper. Then, transfer your salad to the fridge to chill.
Add some chopped cilantro shortly before serving and that, my friends is it. Hearty enough for a main dish, also a natural side. Easy peasy.
Lentil Salad
2016-07-25 14:56:48
Ingredients
1 pound French green lentils
2 bay leaves
1/4 cup olive oil
1/3 cup apple cider vinegar
1/2 teaspoon ground cumin
1/4 teaspoon ground coriander
1/4 teaspoon cayenne
1 cup red onion, finely chopped
1 cup red bell pepper, finely chopped
1 cup yellow bell pepper, finely chopped
1 cup plum tomato, finely chopped
kosher salt to taste
freshly ground black pepper to taste
1 cup roughly chopped cilantro + a few extra sprigs for garnish
Instructions
Rinse and drain your lentils, making sure you remove any small pebbles or debris.
Transfer your lentils to a large saucepan. Add two bay leaves and cover the lentils with at least two inches of water.
Put your lentils on the stove over high heat and let the water come to a boil.
While you are waiting for the water to boil, mix together your olive oil, apple cider vinegar, cumin, coriander and cayenne in a small bowl. Set aside.
When the water begins to boil, reduce the heat to a simmer.
Cook your lentils for an additional 15-20 minutes until the lentils are just cooked through.
Drain your lentils and transfer them to a large non-reactive mixing bowl.
Add your vinaigrette together with the red onion, red bell pepper, yellow bell pepper and tomato. Mix well.
Add salt and pepper to taste.
Transfer your lentil salad to the refrigerator to chill.
Five minutes before serving, add the chopped cilantro. Mix well.
Transfer your lentil salad to a serving bowl. Top with a few extra cilantro sprigs for garnish.
Kitchen Below Canal http://www.kitchenbelowcanal.com/
Comments
comments