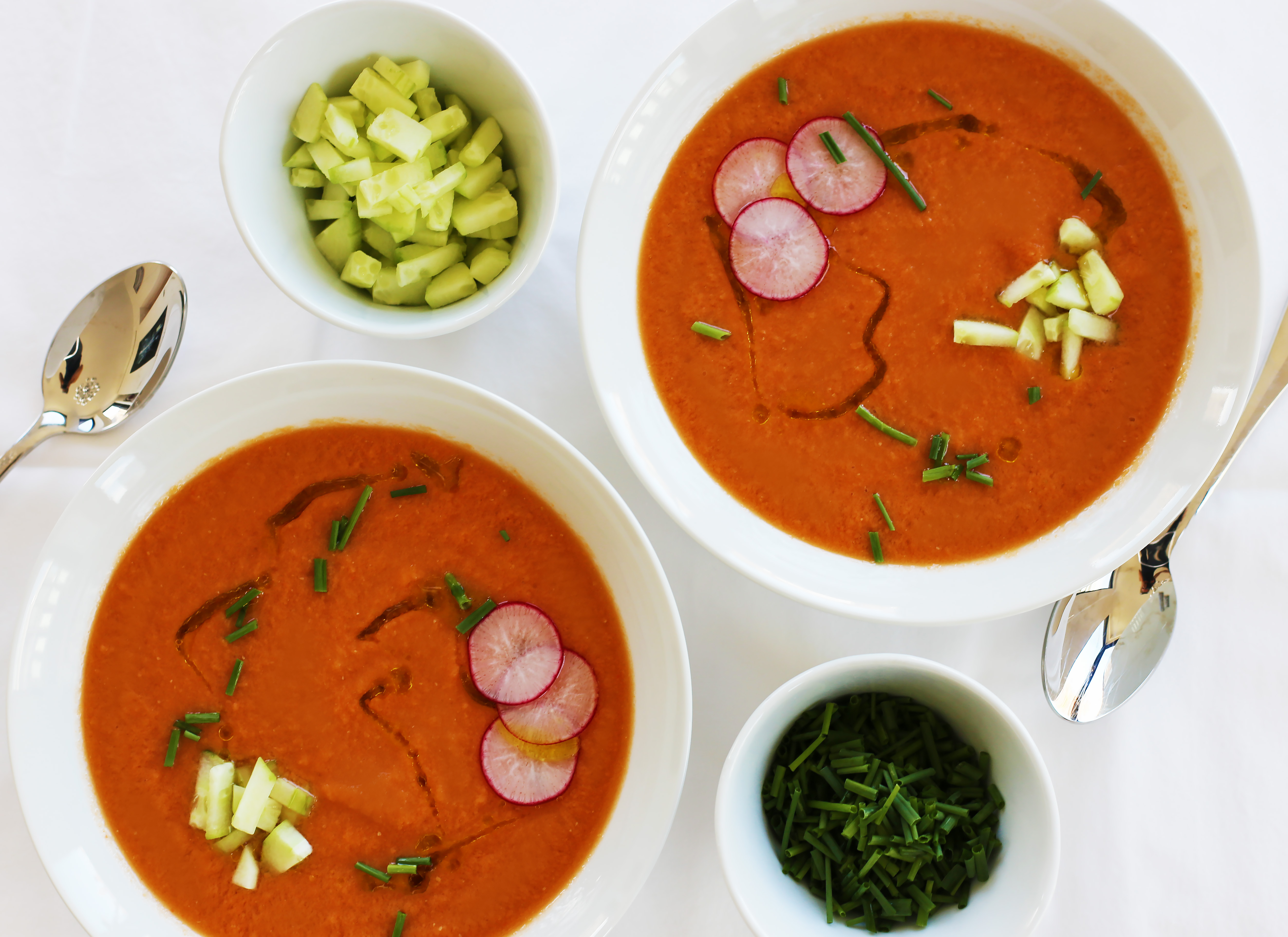 Nothing says summer quite like heirloom tomato gazpacho and I want you to be able to enjoy this recipe all summer long! It's crazy healthy and easy to make. You can prep it in advance and keep it in your fridge for a refreshing lunch. Or serve it in small glasses like these if you are entertaining.
I love gazpacho made with heirloom tomatoes. The flavors and textures of heirloom tomatoes are heavenly. Most varieties of heirloom tomatoes will work for this recipe. Just stick to bright red and/or yellow tomatoes so that you end up with a beautiful color in the end. (I used only reds here but feel free to experiment.) And if you can't find heirloom tomatoes? Don't sweat it. Just substitute whatever looks ripe and juicy at the market.
Traditional gazpacho recipes contain bread. This recipe contains none. Come on – did you really think that I would load you up on the gluten? These veggies are incredible on their own! It's paleo vegan perfection.
This heirloom tomato gazpacho is a perfect starter for summer entertaining. I served it at a get together just last week and the gazpacho was gone in minutes. It's easy to sip – no spoons required. And you can easily make this the day in advance if you are trying to spread out the work before a party. In fact, I think that the flavors are even better a day later.
So let's do this, shall we?
Heirloom Tomato Gazpacho
2016-06-13 17:50:01
For the Gazpacho
2 ½ lbs. heirloom tomatoes (choose red and/or yellow varieties)
1 English Cucumber, peeled and roughly chopped (plus more cucumber for garnish)
1/2 cup red bell pepper, roughly chopped
1/2 cup yellow bell pepper, roughly chopped
1/3 cup red onion, roughly chopped
1 jalapeño, seeded and deveined
1 clove garlic
1 tablespoon olive oil (plus more for garnish)
2 teaspoons salt
1 1/4 tsp freshly squeezed lemon juice
1/2 tsp freshly squeezed lime juice
1/4 teaspoon cumin
1/8 tsp cayenne
For Garnish
cucumber, peeled and diced
radish, thinly
chives, chopped
olive oil
Instructions
Bring a pot of water to a boil.
Meanwhile, make and ice bath by filling a large bowl with a combo of ice and water. (You are going to blanch and shock your tomatoes so that you can easily remove the tomato skin.)
With a sharp knife, make an X on the bottom of your tomatoes.
Put your tomatoes in boiling water for 30-60 seconds until the skin starts to peel back slightly.
Remove the tomatoes from the boiling water and transfer them to the ice bath.
When they are cool, remove the tomatoes from the ice bath.
Remove the tomato skin; it will come off easily. Remove the tough cores from the tomatoes as well but do not remove the pulp.
Transfer the tomatoes to a high speed blender.
Add the cucumber, red and yellow bell pepper, onion, jalapeño, garlic, olive oil, salt, lemon juice, lime juice, cumin and cayenne.
Puree the gazpacho until very smooth.
Transfer the gazpacho to a non-reactive bowl and refrigerate until chilled.
To serve, ladle the gazpacho into individual bowls.
Garnish with a bit of cucumber, sliced radish and chopped chives. Drizzle with a bit of olive oil.
Serve.
Kitchen Below Canal http://www.kitchenbelowcanal.com/
Comments
comments