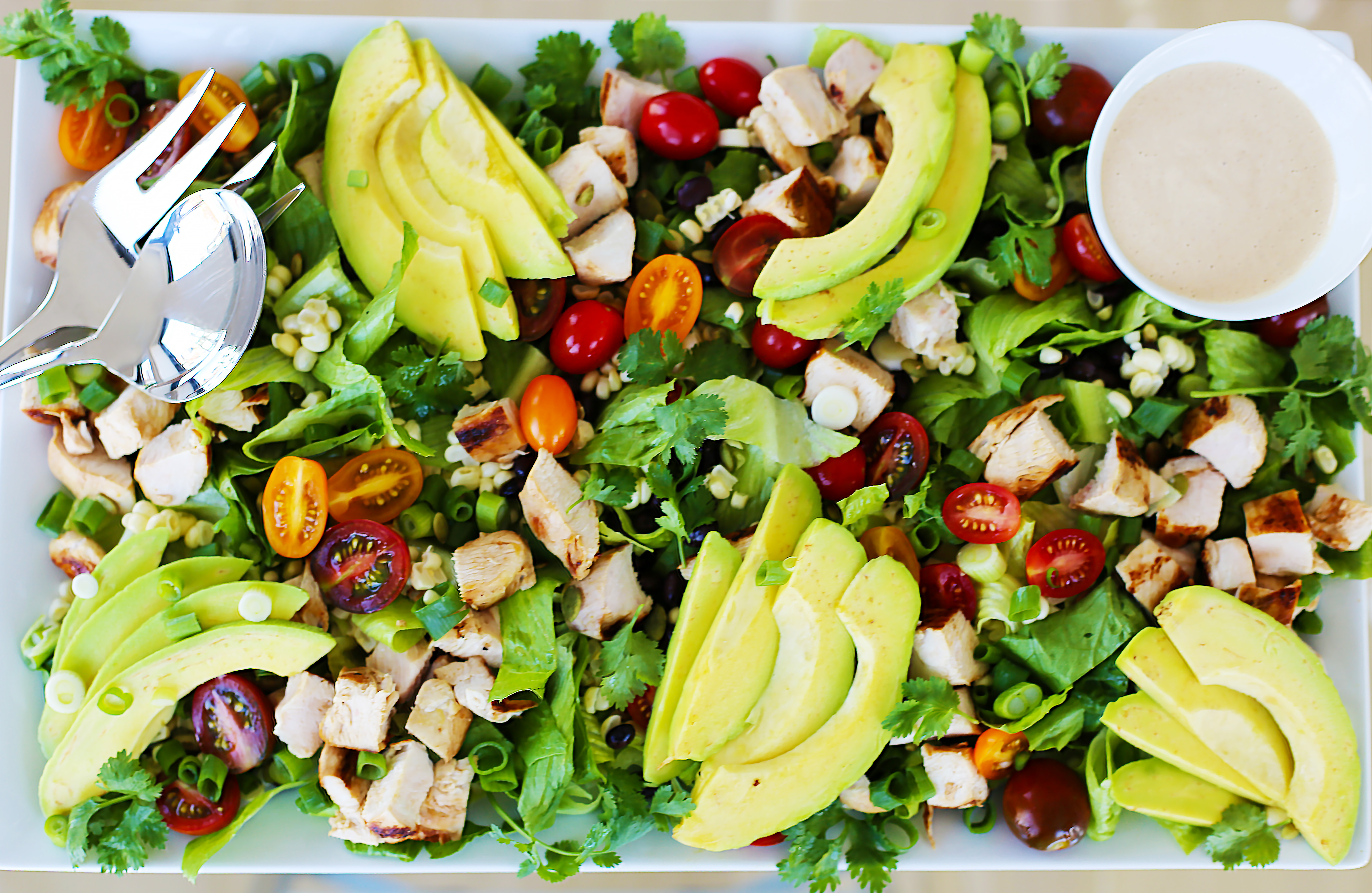 This grilled chicken salad with chipotle lime dressing is locked and loaded and ready for you to serve up this summer! Dive in. It could be your lunch tomorrow.
I am obsessed with this grilled chicken salad. Let's be honest. There are times when you really want the "big salad" – something super hearty that's going to keep you going all day long. But lots of chicken salads are chock full of things that aren't great for you. That block of cheddar, pound of bacon, river of unhealthy dressing.
I set out to create my own "loaded" chicken salad with clean protein and healthy fats. Gorgeous greens, avocado, tomato, black beans, green onion, fresh corn, pepitas and of course, that marinated grilled chicken! I know that some of you may not eat black beans (not paleo) or corn (GMOs). I don't eat either with great frequency but I am not an all or nothing kind of girl. But if one or the other is not your jam, just sub something else. Throw some fresh summer veggies on the grill and chop those up, for example.
The vegan creamy chipotle-lime dressing is downright dreamy. You have the smoky heat from the chipotle, acidity from the lime juice, honey for sweetness – yes, yes, and yes.
Grilled Chicken Salad With Chipotle-Lime Vinaigrette
2016-07-14 09:01:45
For the chicken
3/4 cups orange juice
1/4 cup apple cider vinegar
1 teaspoon salt (plus more for cooking chicken)
1/4 teaspoon cumin
1/4 teaspoon coriander
1/4 teaspoon garlic powder
1/4 teaspoon onion powder
1 pound chicken
For the dressing
1 cup raw cashews
1 cup water
1 clove garlic
1 tablespoon + 1 teaspoon lime juice
1 tablespoon honey
1 teaspoon salt (or to taste)
1 teaspoon chipotle powder
1/4 teaspoon cumin
1/4 teaspoon coriander
1/4 teaspoon onion powder
For the salad
1/4 cup pepitas
2 ears of fresh uncooked corn
8 cups of romaine, sliced into 3/4 inch strips
1 cup cooked black beans, rinsed and drained*
1 1/2 cups small tomatoes (slice some in half; leave some whole)**
2-3 green onions, chopped
1 - 1 1/2 ripe avocados, sliced
cilantro leaves for garnish (optional)
salt
For the chicken
Combine the orange juice, apple cider vinegar, salt, cumin, coriander, garlic powder and onion powder together in a bowl that is large enough to hold your chicken. Mix well.
Add your chicken to the bowl.
Cover and refrigerate for two hours.
When the chicken is done marinating, remove it from the marinade.
Pat the chicken dry and season well with salt and pepper.
Heat your grill over medium heat. Make sure that you have a clean grate.
Brush your grill with a bit of avocado oil.
Grill your chicken on both sides until the center is fully cooked. This will take about 10 minutes give or take.
Remove the chicken from the grill when it is done and transfer to a platter to rest for 10 minutes.
Cut the chicken breast into 1 inch cubes. Set aside.
For the dressing
Place raw cashews in a bowl with enough water to cover them. (***Do this when you start marinating your chicken!***)
Cover and allow the cashews to soak for two hours.
Transfer the cashews to a high speed blender and discard the soaking liquid.
Add the water, garlic, lime juice, honey, salt, chipotle powder, cumin, coriander and onion powder to the blender.
Puree until totally smooth.
Taste the dressing and consider whether it needs any more salt.
Refrigerate until serving.
For the salad
Toast your pepitas in a small skillet over medium heat until bits become golden.
Transfer the pepitas to a small bowl and set aside.
Arrange your romaine on a serving platter.
Top with the pepitas, corn, black beans, tomatoes, green onions and chicken.
Arrange the sliced avocado in small groupings around the platter.
Garnish your salad with cilantro leaves. Tuck some sprigs around the edges and sprinkle some leaves on top.
Sprinkle your salad with a bit of salt.
Serve a bowl of the chipotle dressing alongside your salad.
Enjoy!
Notes
* I often use beans from my slow cooker black beans but feel free to use canned beans. As long as your beans are cooked, but not overcooked, they will be fine.
** I usually use two to three varieties of small tomatoes. I typically slice some in half and leave some whole.
Kitchen Below Canal http://www.kitchenbelowcanal.com/
Comments
comments