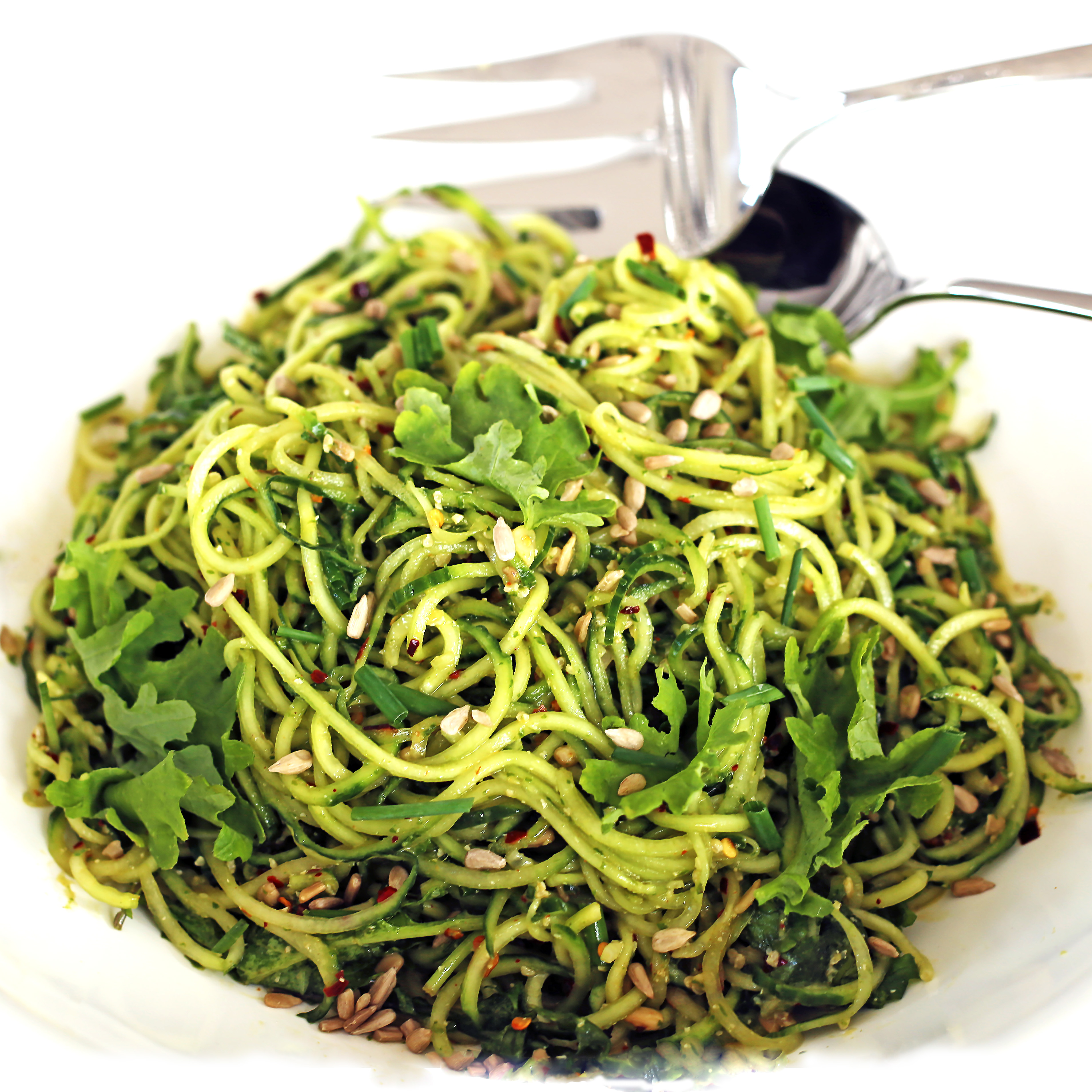 I am on a plane as I type. Things are not going so well as our plane was just diverted to Austin when we are supposed to be heading to Houston. But such is life and I didn't want to leave you empty-handed over the weekend. These cucumber noodles are the easiest thing in the world to make. They are light and delicious, a perfect summer side for everything for grilled salmon to veggie burgers.
All you need to make the noodles is a spiralizer. (This is the one I have at home.) It's crazy how quickly you can make a mountain of noodles on the spiralizer and these cucumber noodles are so crunchy and refreshing.
While cucumbers are perfectly good for you, they aren't exactly the most nutrient dense veggie you can find. So I decided to make a pesto with baby kale, sunflower seeds and chives. The addition of apple cider vinegar, cayenne, crushed red pepper and a bit of garlic give the pesto a slight kick. Don't you love it when something is good and good for you? Have a great weekend, everyone!
Easy Cucumber Noodles with Kale and Sunflower Seed Pesto
2016-08-19 13:47:08
For the Pesto
1 cup baby kale
1/4 cup olive oil
3 tablespoons apple cider vinegar
2 tablespoons sunflower seeds
2 tablespoons chopped chives
1 clove garlic
2 teaspoons red chili flakes
1 teaspoon maple syrup
1/8 teaspoon cayenne
kosher salt to taste
For the Noodles
2 English Cucumbers
1 cup baby kale (plus more leaves for garnish)
1/4 cup of chopped chives (plus more for for garnish)
2 tablespoons sunflower seeds (plus more for garnish)
1 tablespoon red chili flakes
kosher salt to taste
For the Pesto
Put all of the ingredients for the pesto (except for the salt) in a small food processor. Blend until fairly smooth. Tiny bits of kale leaves should still be visible but no large pieces.
Add salt to taste.
Set aside.
For the Noodles
Slice the ends off of each cucumber and cut each cucumber in half.
Put a cucumber half on the spiralizer and use the spiralizer to make your noodles. Repeat with the other cucumber halves until all of your noodles are prepared.
Gently pat the cucumber noodles with a clean, dry towel to remove a bit of the excess moisture.
Transfer the noodles to a large mixing bowl.
Add 1 cup of baby kale leaves, 1/4 cup chopped chives, 2 tablespoons sunflower seeds and 1 tablespoon of red pepper flakes to the bowl.
Add the pesto to the bowl and mix well.
Taste the noodles. Add salt if necessary.
Transfer the noodles to a large serving bowl.
Tuck a few fresh kale leaves into the noodles for garnish. Top the noodles with more chopped chives and sunflower seeds.
Serve immediately.
Notes
Do not add the pesto to the noodles until right before serving. The cucumber noodles will keep for several hours without pesto.
Kitchen Below Canal http://www.kitchenbelowcanal.com/
Comments
comments