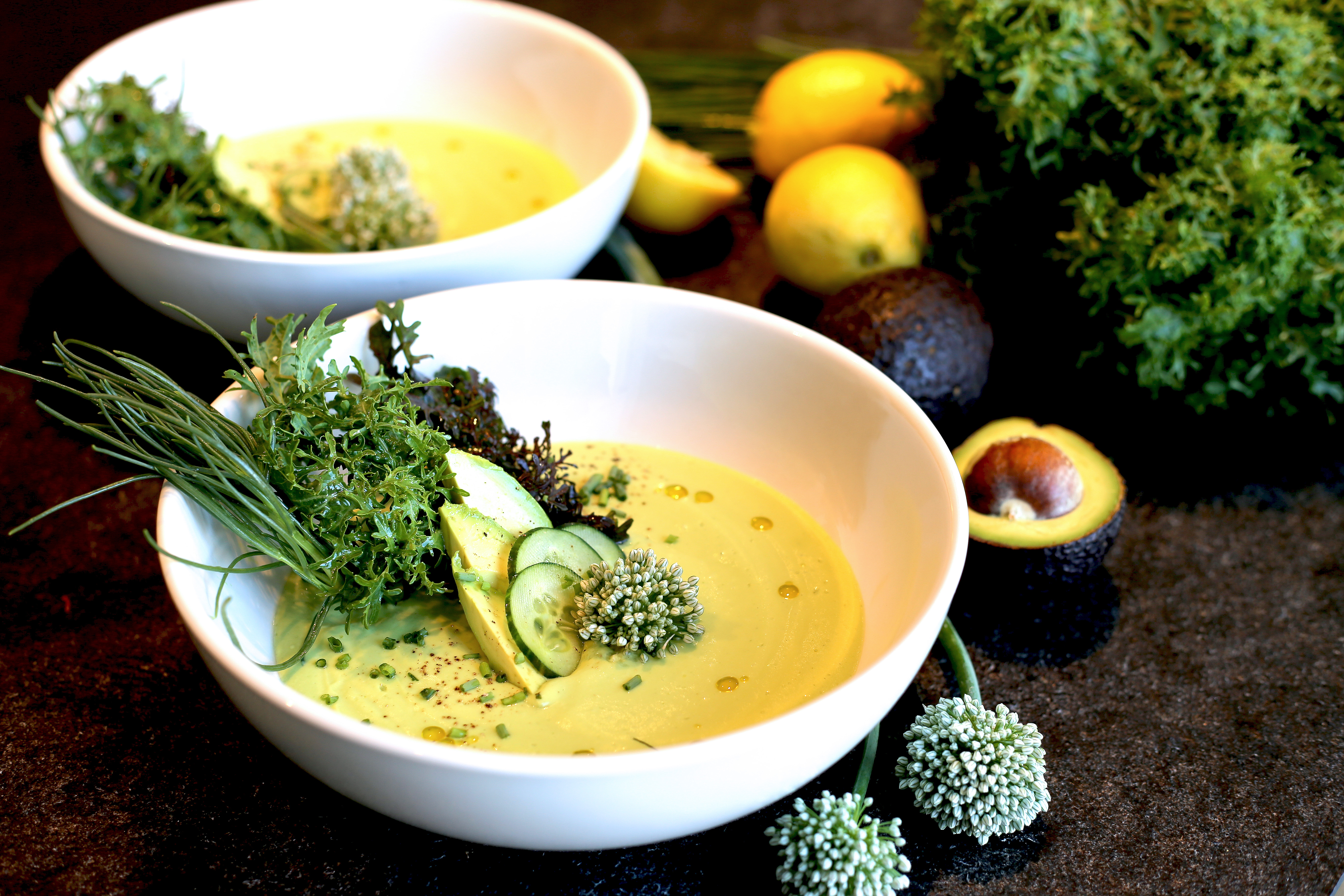 Cold avocado cucumber soup is my summer comfort food. I'm a huge fan of cold soups in general but this one – so creamy and satisfying – has a special place in my heart.
Is there really a better fruit or vegetable than the avocado? Okay, okay. If it were a contest between an avocado and an heirloom tomato, it might be a toss up but that's the kind of contest I want to have! I'll happily play judge and call it a draw. I have been making different versions of avocado soup for as long as I can remember but this avocado cucumber soup is off the charts. It's vegan and it's paleo. It's insanely easy to make. It's a glorious nutrient-dense party in a bowl and the flavors are spot on.
The cool refreshing quality of the cucumber is a perfect compliment to the avocado but that's just the beginning. Lemon, garlic, cilantro, dill, chives, cumin and even a pinch of cayenne – I am seriously not messing around here. The creaminess of the cashews – oh, I didn't mention those? – is what makes the texture of this soup divine.
This avocado cucumber soup is perfect for summer entertaining. (I mean, hello beautiful!) What a great starter for a dinner party, right? It also makes for a pretty fab lunch. And I know you are so sad that you can just throw everything in the blender and be done.
The avocado cucumber soup is beautiful on its own, of course. But if you want to dress it up the way I do here, grab some gorgeous greens at your local farmers' market. Toss them in a bit of lemon juice and olive oil and arrange them on one side of your soup. Add a bit of avocado and cucumber, chopped chives, freshly cracked black pepper and olive oil. Ladies and gents, you're looking at the supermodel of summer soups!
P.S. That sweet little blossom in the center is a shallot flower, in case you are wondering. It's small but mighty and it packs a pretty serious punch. Translation: if you put them in your soup, you might want to warn your guests to treat it the way they would wasabi. 😉
Cold Avocado Cucumber Soup
2016-06-30 16:01:55
Ingredients
1/2 cup raw cashews
4 cups peeled and chopped cucumber (plus more for garnish)
4 ripe avocados (plus more for garnish)
3 cups cold water
1 clove garlic
2 tablespoons freshly squeezed lemon juice
1 tablespoon chopped cilantro
1 tablespoon chopped chives (plus more for garnish)
1 teaspoon chopped dill
2 1/2 teaspoons kosher salt
1/8 teaspoon cumin
pinch of cayenne
Garnish (optional)
fresh greens*
sliced avocado
sliced cucumber
chopped chives
freshly cracked black pepper
olive oil
Instructions
Place your cashews in a bowl with enough water to cover them. Let the cashews soak for two hours.
Place your cucumber, avocados, 1 1/2 cups of water**, garlic, lemon juice, cilantro, chives, dill, kosher salt, cumin and pinch of cayenne in a blender. Blend until smooth.
Add your cashews to the blender and discard the soaking liquid. Blend until smooth again.
Transfer your soup to a large non-reactive mixing bowl. Add the remaining 1 1/2 cups of water. Stir to incorporate.
Refrigerate your soup until chilled.
To Serve/Garnish
Ladle your soup into bowls.
Place your greens in a small mixing bowl and dress them with a bit of lemon juice and olive oil.
Arrange some greens on one side of your soup.
Arrange a few slices of avocado and cucumber on top of the greens.
Sprinkle with some chopped chives.
Add a bit of freshly cracked black pepper.
Add some droplets of olive oil around the perimeter of the bowl.
Serve and enjoy!
Notes
Serves 6
* Choose whatever greens you like. I used a combo golden frill mustard greens, scarlet frill mustard greens and agretti. I also used shallot flowers in the center. I found all of those fresh at my local farmers' market. Shallot flowers pack a serious punch so if you use them, warn your guests!
** My Vitamix doesn't have the capacity to hold all of the liquid. That is why I add half of the water in the beginning, then transfer the soup to a large mixing bowl and add in the remainder.
Kitchen Below Canal http://www.kitchenbelowcanal.com/
Comments
comments