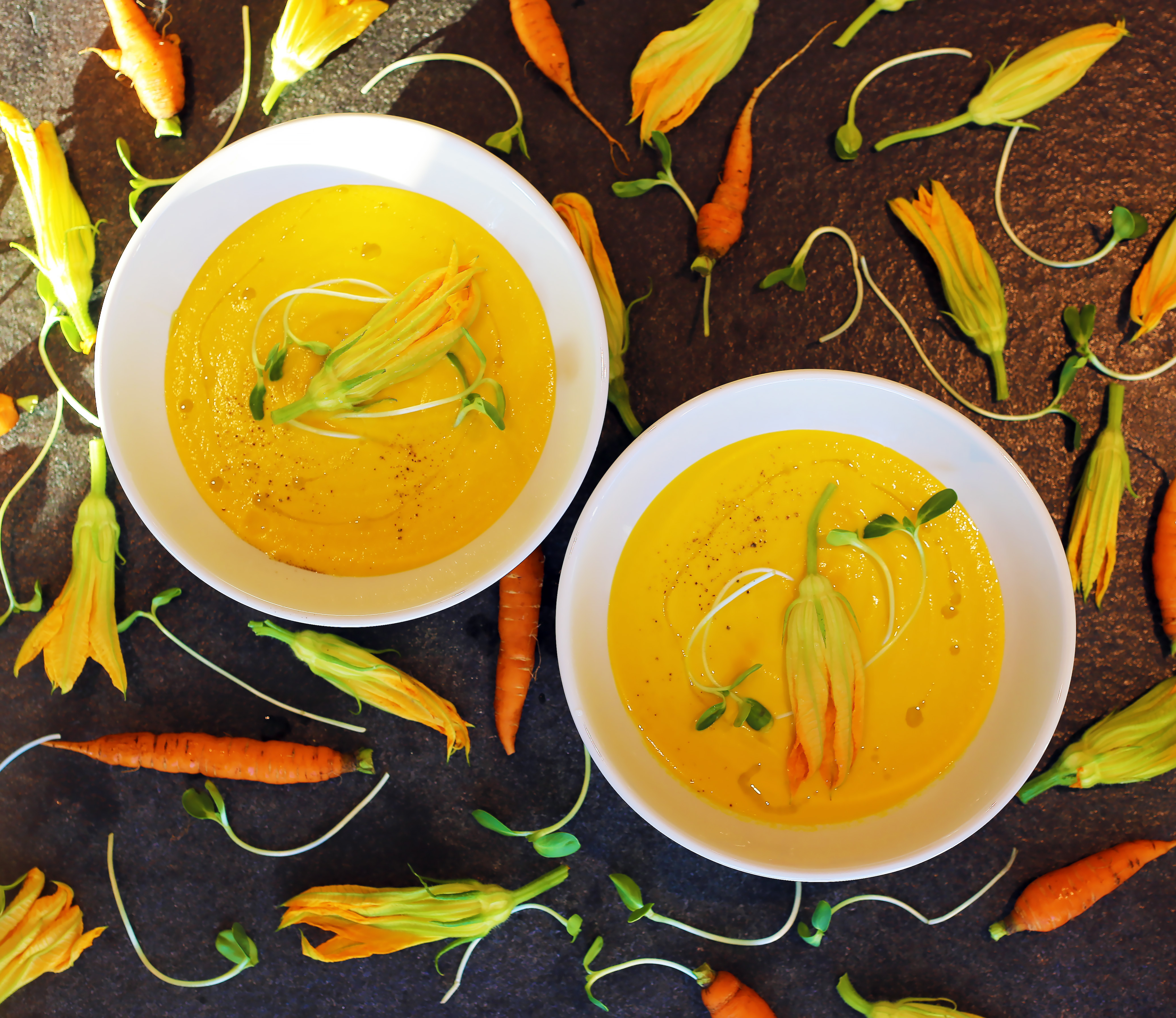 You guys, I am downright giddy with excitement about this chilled carrot soup. The carrots at the Union Square farmers market were ridiculous they were so pretty. I had no choice but to bring them home with me, even though they weren't in my plans for the week. I wasn't immediately sure what I was going to do with them. But it's been 90+ degrees all week in this humid concrete jungle that I call home and cold soup has sounded pretty flipping awesome.
The flavors in this soup are insane. Turmeric, cumin, coriander, cayenne, a bit of chipotle and even a hit of yellow mustard – this carrot soup has got it going on. Add to that the lime juice and a touch of apple cider vinegar and you've got a party in a bowl. And the texture! It's light but satisfyingly creamy thanks to the addition of a handful of soaked raw cashews.
The simple squash blossom and sunflower shoot garnishes are beautiful. I love how the colors work with the soup itself. But it's totally fine to substitute garnishes. Cilantro or chives work as do many varieties of sprouts or micro greens. This carrot soup is so delicious that it's easy to forget just how good it is for you. But it is good for you. If you like feeling great about what you are putting into your body, you really need to try this.
Chilled Carrot Soup
2016-07-27 20:14:35
Ingredients
2 tablespoons olive oil or avocado oil
2 cups white onion, chopped
4 cloves garlic, minced
3 pounds carrots, peeled and cut into 1 inch chunks
2 teaspoons turmeric
1/2 teaspoon ground cumin
1/2 teaspoon ground coriander
1/4 + 1/8 teaspoon cayenne pepper
1/8 teaspoon chipotle powder
6 cups water
1/2 cup raw cashews, soaked for two hours *
2 tablespoons + 2 teaspoons freshly squeezed lime juice
2 teaspoons yellow mustard
1 teaspoon apple cider vinegar
kosher salt to taste
Garnishes (optional): **
olive oil
fresh black pepper
sunflower sprouts
squash blossoms
Instructions
Heat the oil in a large stockpot over medium high heat.
Add the onions. Allow them to cook until the onions are translucent, stirring occasionally. This will take 3 to 4 minutes.
Add the garlic and cook for a minute more.
Add the carrots, turmeric, cumin, coriander, cayenne and chipotle. Give the ingredients a stir so that they are evenly incorporated. Allow them to cook for one more minute.
Add the water.
Turn the stove to high heat and allow the soup to come to a boil.
When the soup begins to boil, reduce the heat to a simmer. Allow the soup to cook uncovered until the carrots are fork tender but not overcooked. This will take around ten minutes give or take.
Remove the soup from the heat and allow it to cool a bit.
Place the soaked raw cashews in a high speed blender and discard the soaking liquid.
Transfer about half of the soup to a high speed blender as well, making sure that you leave plenty of room in the top of your blender. (You will need to puree your soup in at least two batches depending on the size of your blender container; use your judgment.)
Puree the soup until totally smooth. Transfer the puree to a large non-reactive bowl.
Transfer the rest of the un-pureed soup to the blender and puree until totally smooth.
Add the puree to the large bowl.
Cover the soup and refrigerate at least six hours or overnight.
Stir in lime juice, apple cider vinegar and yellow mustard.
Add kosher salt to taste.
To serve
Ladle the soup into bowls.
Drizzle the soup with a bit of olive oil.
Add a bit of freshly cracked black pepper.
Garnish with a few sunflower sprouts and a squash blossom.
Serve.
Notes
Serves 4 to 6
* To soak the raw cashews, put them in a small bowl in enough water to cover them. Allow them to sit for two hours.
** Feel free to make substitutions for the squash blossoms and sunflower sprouts. Hearty sprouts or micro greens work (ideally something more substantial than alfalfa sprouts) or even a bit of cilantro or chives.
Kitchen Below Canal http://www.kitchenbelowcanal.com/
Comments
comments