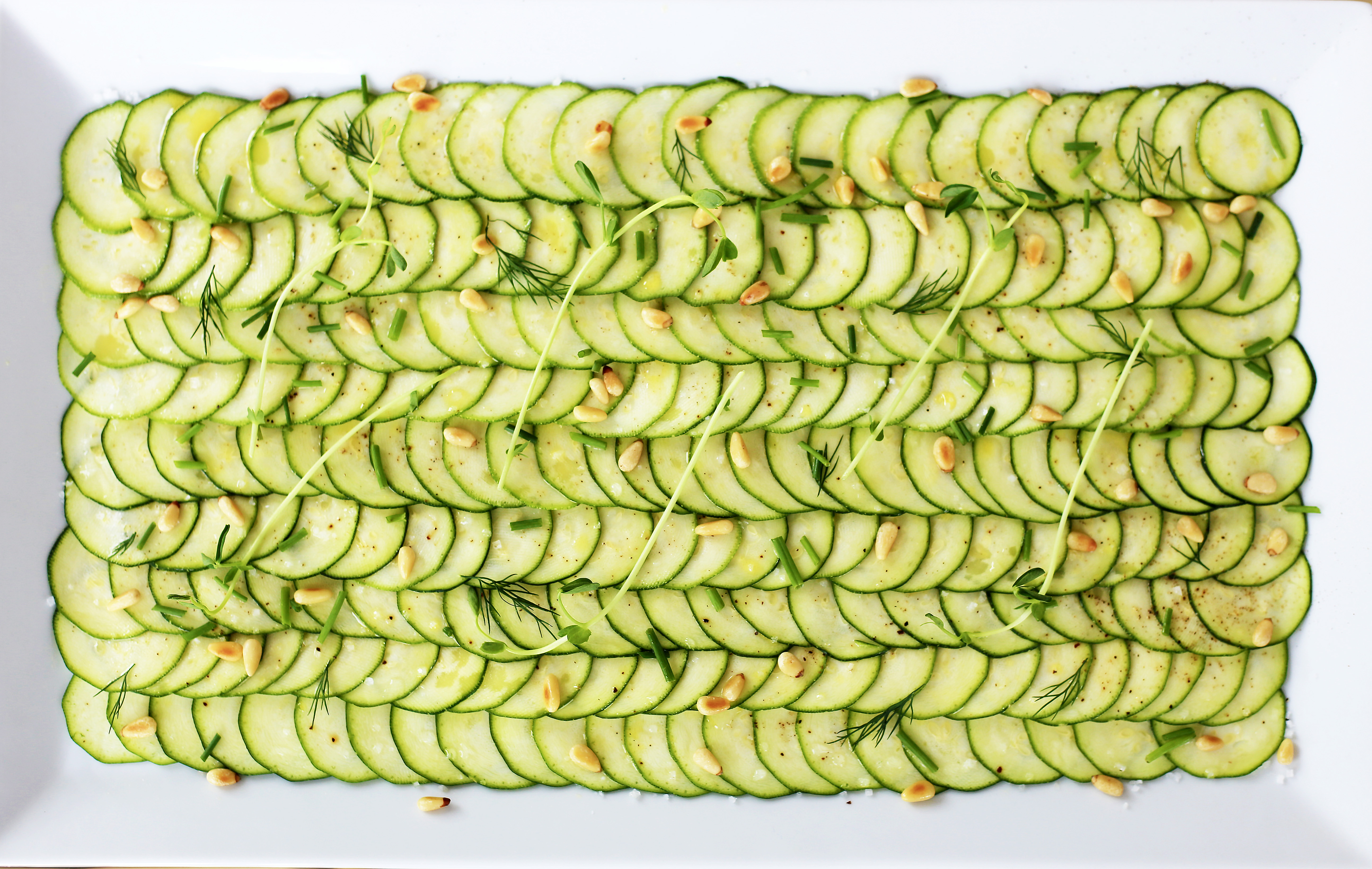 All of my friends are requesting easy summer sides and it doesn't get much easier than this raw zucchini carpaccio. No cooking required. Simple, healthy and delicious.
If you have a mandoline you can whip through a pound of zucchini in seconds, creating perfect, thin zucchini slices. Then, just lay the zucchini out on a platter, overlapping the rounds as you go.
Once you have arranged the zucchini, brush them lightly dwith a combo of lemon juice and olive oil. Sprinkle with salt and pepper and some toasted pine nuts. Garnish with dill, chives and a few sweet pea shoots. Let it sit for ten minutes to give the dressing a chance to soak into the zucchini. Then serve. Easy peasy.
Zucchini Carpaccio
2016-06-16 15:51:46
Ingredients
1 lb zucchini
2 tablespoons olive oil
Juice of 1 lemon
1 tablespoon plush 1 teaspoon pine nuts
fleur de sel or kosher salt
freshly ground pepper
For Garnish
chopped chives
dill
sweet pea shoots *
Instructions
Place your pine nuts in a skillet over medium low heat.
Stir the nuts frequently until they start to get a bit golden and begin to give off a bit of aroma. This will only take a few minutes.
Transfer to a small bowl and set aside.
Slice your zucchini into very thin, even rounds, preferably on a mandoline.
Arrange the zucchini rounds on a serving platter, overlapping them as you go.
Mix your lemon juice and olive oil together in a small dish.
Drizzle the lemon juice/olive oil combination over your zucchini rounds and then use a brush to lightly and evenly distribute the mixture over the zucchini.
Sprinkle your zucchini with salt and pepper.
Sprinkle the pine nuts over the zucchini.
Garnish your zucchini carpaccio with chopped chives, small dill sprigs and a few sweet pea shoots.
All the zucchini to sit for ten minutes to give the lemon juice and olive oil a chance to soak into the zucchini and then promptly serve.
Notes
* Ok to substitute other shoots or sprouts.
Kitchen Below Canal http://www.kitchenbelowcanal.com/
Comments
comments