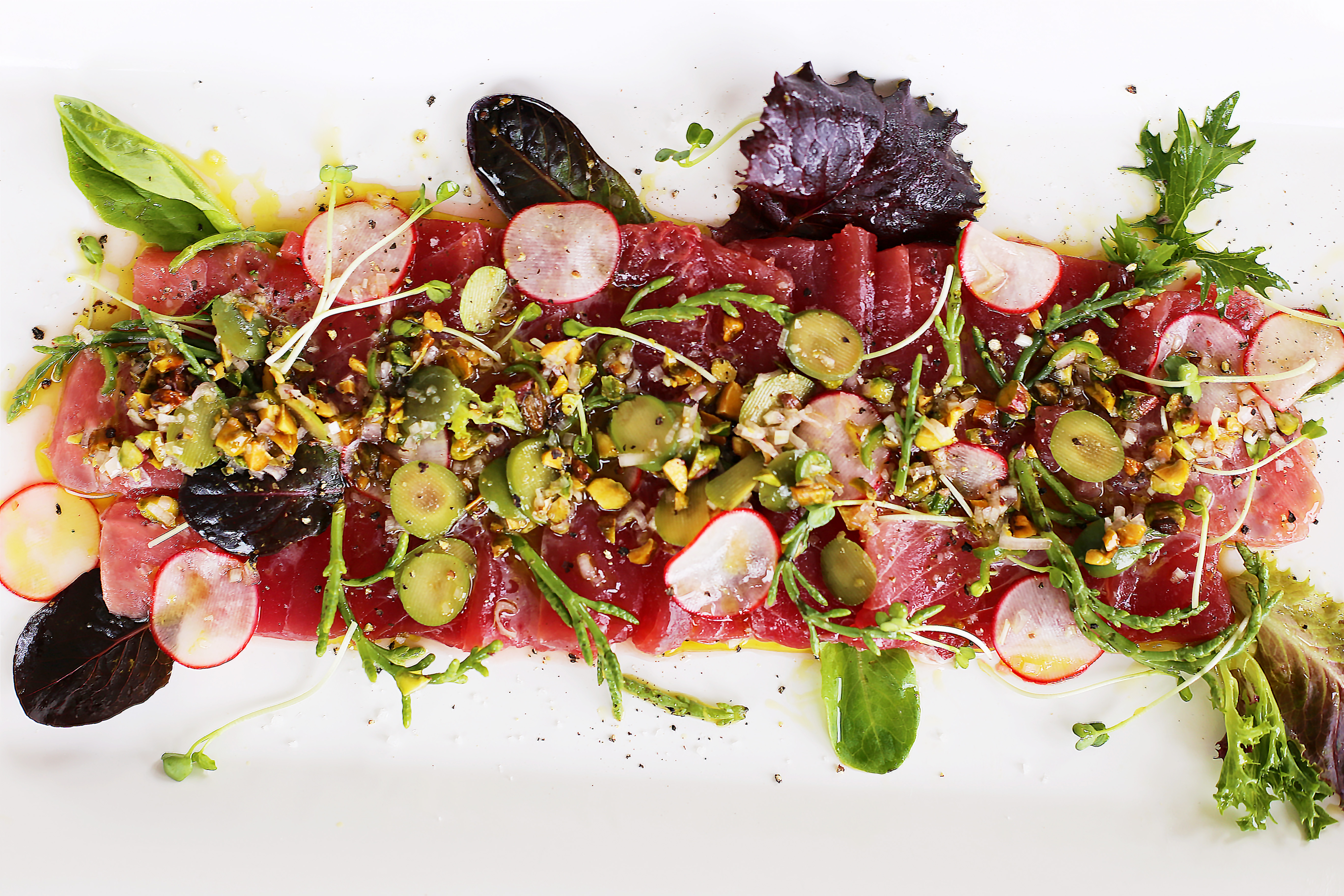 Please do yourself a favor and add this yellowfin tuna crudo to your summer recipe rotation! I will definitely be busting this out on Memorial Day. Three words – no cooking required.
Crudo is a dish that can really be as simple or elaborate as you want it to be. While I was preparing this dish, which is insanely delicious by the way, I had a bit of the tuna dressed in just four ingredients – freshly squeezed lemon juice, really good quality olive oil, fleur de sel and freshly cracked black pepper. It was lovely. So keep that note in your back pocket and feel free to experiment!
Let's talk about what matters most with crudo because your basic ingredients really count. Rule number one is that you start with the freshest sushi grade fish. (I shopped for my fish here, in case you are interested.) Rule two is that the quality of your olive oil matters; you can absolutely taste the difference. Third, use good salt, something a bit courser than table salt that has really great flavor. I used fleur de sel. A nice kosher salt works, too.
In creating this dish, I thought about color and texture, in addition to flavor. Freshly squeezed lemon juice, olive oil, and a bit of shallot form the base of my dressing. I added pistachios, lightly toasted in the oven and then coarsely chopped. (Ok, you caught me – I guess I cooked a little, if five minutes in the oven really counts.)
Thinly sliced radishes and green olives followed. The olives add an appealing brininess to the dish, as do the sea beans. Have you tasted sea beans, by the way? They have a nice crunch and the intense flavor of sea salt. If you happen to see them at your farmers' market or supermarket, pick up a few to try. You can eat them raw or cook them. I think they are an interesting alternative to capers and they're a gorgeous addition to the plate.
Throw in a few radish shoots and greens for garnish. Finish with freshly cracked black pepper and we're done! Now for the recipe…
Yellowfin Tuna Crudo
2016-05-15 12:43:04
Ingredients
1 pound sushi grade yellowfin tuna loin
1/4 cup olive oil
juice of one lemon
1/8 teaspoon lemon zest
1 tablespoon finely chopped shallot
2 tablespoons pistachios
1/4 cup sea beans*
1 tablespoon of green olives, pitted and sliced
1 tablespoon thinly sliced radish
radish sprouts, for garnish **
a few mixed greens for garnish
fleur de sel to taste
fresh ground pepper
Instructions
Quick Tip: Make sure that you have all of your vegetable ingredients washed and prepped before you get started. Once you get going, this will be a quick process; you don't want the raw fish sitting out while you chop shallots and slice radishes.
Preheat your oven to 325 degrees.
Toast your pistachios on a baking sheet for five minutes.
Remove from the oven and transfer to a chopping board. Roughly chop the pistachios.
Put your tuna in the freezer for 15 minutes. (This will make it easier to slice.)
While your tuna is in the freezer, whisk together your olive oil and lemon juice in a glass mixing bowl until it is a fairly uniform mixture.
Add your lemon zest, chopped shallot, pistachios, sea beans, green olives and radish. Give that a bit of a stir so that everything is coated evenly.
When your fifteen minutes is up, remove the tuna from the freezer. Transfer to a cutting board. With a very sharp knife, slice the tuna into thin slices (between 1/8 and 1/4 inch thick). I try to keep the slices around two inches long as much as possible.
Arrange the slices neatly on a serving dish overlapping them slightly.
Tuck in a few mixed greens around the edges of a fish. You might add a few on top as well.
Arrange some radish greens on top of the fish as well.
Sprinkle the fish with the fleur de sel to taste. (I use somewhere between 1/2 and 1 teaspoon, probably a bit closer to a teaspoon.)
Remove some of the sea beans and radish slices from the lemon vinaigrette mixture and arrange them over the crudo. (I like to make sure that they are distributed in a way that is beautiful on the plate.)
Spoon the remainder of your lemon vinaigrette mixture over the crudo.
Finish with a bit of fresh ground pepper.
Serve immediately and enjoy!
Notes
* If you can't find sea beans, no worries. Feel free to leave them out. You can add in a few extra greens or sprouts. Or substitute a few more olives. (Or try something else entirely; let your farmer's market inspire you! :)
** Yes, it is okay to substitute a different kind of sprouts or microgreens.
Kitchen Below Canal http://www.kitchenbelowcanal.com/
Comments
comments