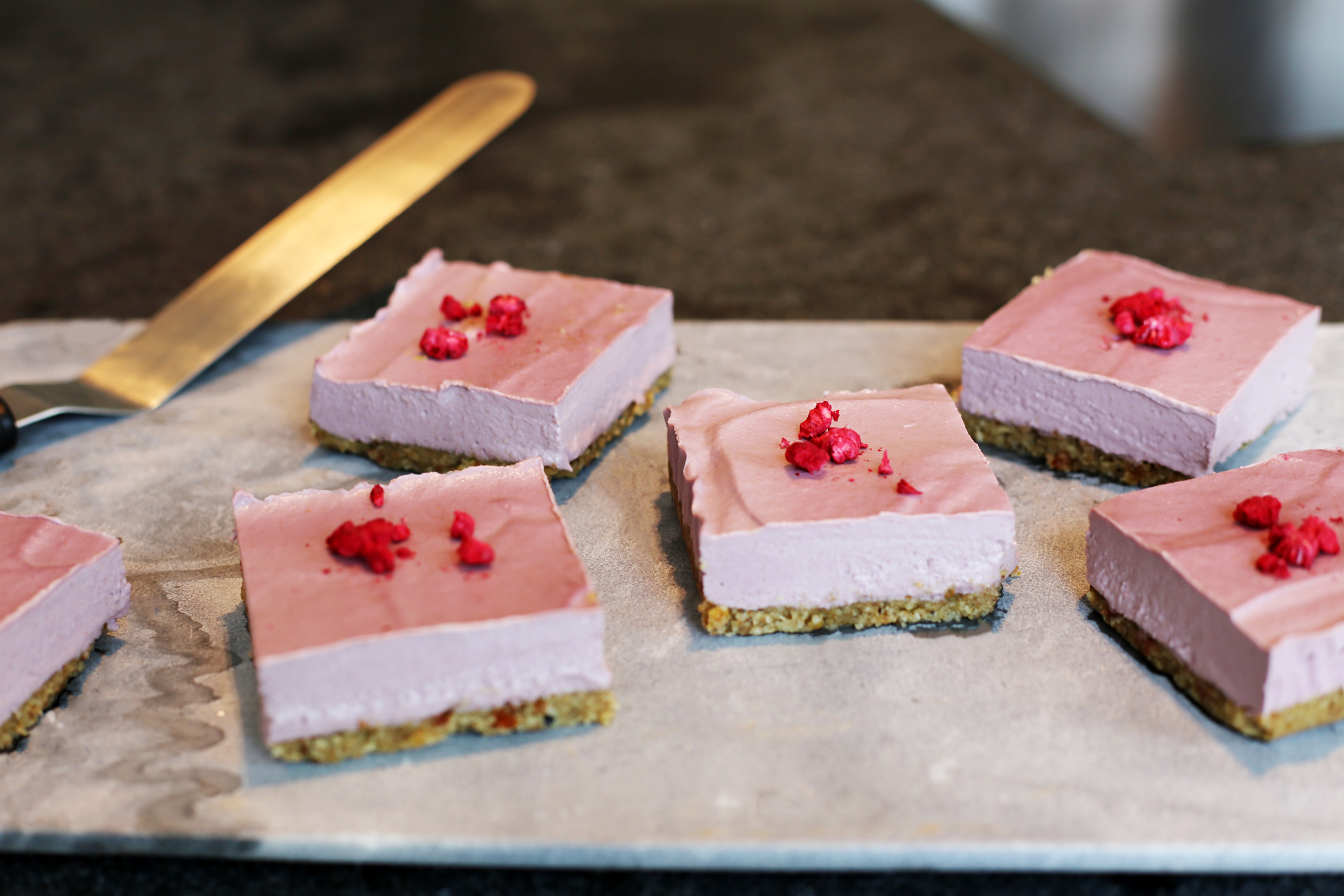 These raw vegan raspberry cheesecake bars are EVERYTHING. I don't care if you are a vegan, a raw vegan or a hell-no-I'm-not-a-vegan. If you don't make these, you are suffering! Memorial Day is just around the corner and this is an easy, no-cook dessert that is gluten free and refined sugar free. And the taste! Creamy and decadent, sweet but not too sweet, full of fresh raspberry flavor. There is nothing in these that is all that bad for you. Okay, I wouldn't take a bath in maple syrup just like I wouldn't eat a tub of cashews but as long as you exercise some self-control and don't eat the whole tray, you're fine.
How do you make these beauties, you ask? We start with the crust, which is loaded with walnuts, macadamia nuts and hemp seeds. Don't have all of those? Who cares? This isn't rocket science. You can substitute. Throw in some medjool dates for sweetness and a touch of salt to act as a counterbalance. Add in a bit of flavor from fresh vanilla bean seeds. Coconut oil adds even more flavor and acts as a binder. Give all of that a whirl in a food processor until it's a crumbly meal-like texture.
Then, line a couple of eight inch square pans with parchment. Press your crust mixture on the bottom of each.
Now it's time for the filling. Grab a boatload of fresh raspberries – hello!
Add some soaked raw cashews, a bit of maple syrup for sweetness and some basil (yes, basil) for flavor. All of that goes into a high speed blender. (I use a Vitamix.) The high speed blender is important so that you get this super-creamy cheesecake texture.
Pour the cheesecake mixture on top of each crust. Toss the pans into a freezer until the cheesecake is fully set. Cut those puppies into squares and there you go! If you want a little flourish, toss some crumbled freeze-dried raspberries on top. And bah-dah-bing, bah-dah-boom, that is it.
Raw Vegan Raspberry Cheesecake Bars
2016-05-05 11:50:08
For the crust
3 cups walnuts *
1 cup macadamia nuts *
1/2 cup hemp seeds *
9 Medjool dates, pits removed **
2 tablespoons coconut oil
1/8 teaspoon Himalaya pink salt (or your other favorite salt)
1/2 vanilla bean
For the cheesecake filling
5 cups raspberries
5 cups raw cashews, soaked in room temperature water for two hours***
1/3 cup maple syrup
1/3 cup water
1 tsp lemon juice
5 basil leaves
Freeze-dried raspberries for garnish (optional, available on Amazon)
Equipment
2 8x8 baking pans
parchment paper
Instructions
Line two 8x8 square baking pans with parchment. For each pan, cut a long rectangular piece of parchment the width of the bottom interior of the pan. The paper should be long enough that it covers not just the base of the pan but also the top and bottom sides. Then cut a second identical piece of paper that will go horizontally. You want the entire base and sides covered. This will make it easy to lift your finished cheesecake from the pan so that you can cut it into even squares.
For the crust
Put your walnuts, macadamia nuts, hemp seeds, dates, coconut oil and salt in your food processor.
Split your 1/2 vanilla bean lengthwise. Scrape the seeds from the inside of the vanilla bean into the food processor. Discard the pod.
Pulse your food processor, scraping down the sides as necessary, until the mixture is a crumbly, relatively even meal-like texture. (You want to see small bits of nuts, seeds and dates; you do not want a creamy nut butter.)
Divide your crust mixture in half. Put half in each parchment lined pan, pressing the mixture down and distributing it evenly so that you have a uniform crust at the base of each pan.
For the cheesecake
Put the five cups of raspberries, maple syrup, water, lemon juice and basil into a high speed blender.
Puree until totally smooth.
Add in roughly half of the raw cashews. Puree until smooth.
Add in the rest of the cashews and puree until smooth. It's normal to feel like you are fighting your blender getting the cashews to incorporate into the mixture. Don't worry. Take your time. Keep scraping the sides and redistributing the mixture. It will get there!
Once your cheesecake mixture is smooth, pour it into your two baking pans on top of the crust.
Put the pans in the freezer until the mixture is totally set. I usually leave the pans for three to four hours. Doing this makes it easy to cut clean, even bars.
When you cheesecakes are set, remove them from the freezer. Lift each cheesecake straight out of the pan with the parchment paper.
Cut each cheesecake into 9 bars.
Crumble a bit of freeze dried raspberry on each bar for garnish. Serve!
Store the set bars in the freezer. Remove them to soften about 20-30 minutes before serving.
Notes
* You can absolutely substitute nuts and seeds. I realize that hemp seeds and macadamia nuts aren't in every grocery store. Depending on the nuts/seeds you use, you may need to alter the amount of coconut oil or dates slightly. Don't be afraid to play around with this recipe. You aren't baking a pie! It's fine.
** You can absolutely substitute another kind of dates (like Deglet Noor, for example) for Medjool dates. But not all dates are the same size or texture. If you are substituting, consider altering the number of dates. If I were substituting Deglet Noor dates, I might use fourteen or fifteen compared with nine Medjool dates.
***If you have not soaked cashews before, it's really simple. Put raw cashews in a large glass bowl with enough water to cover them by an inch or two. Cover the bowl and let them sit for two hours. Discard the soaking liquid and your cashews are good to go!
Kitchen Below Canal http://www.kitchenbelowcanal.com/
Comments
comments