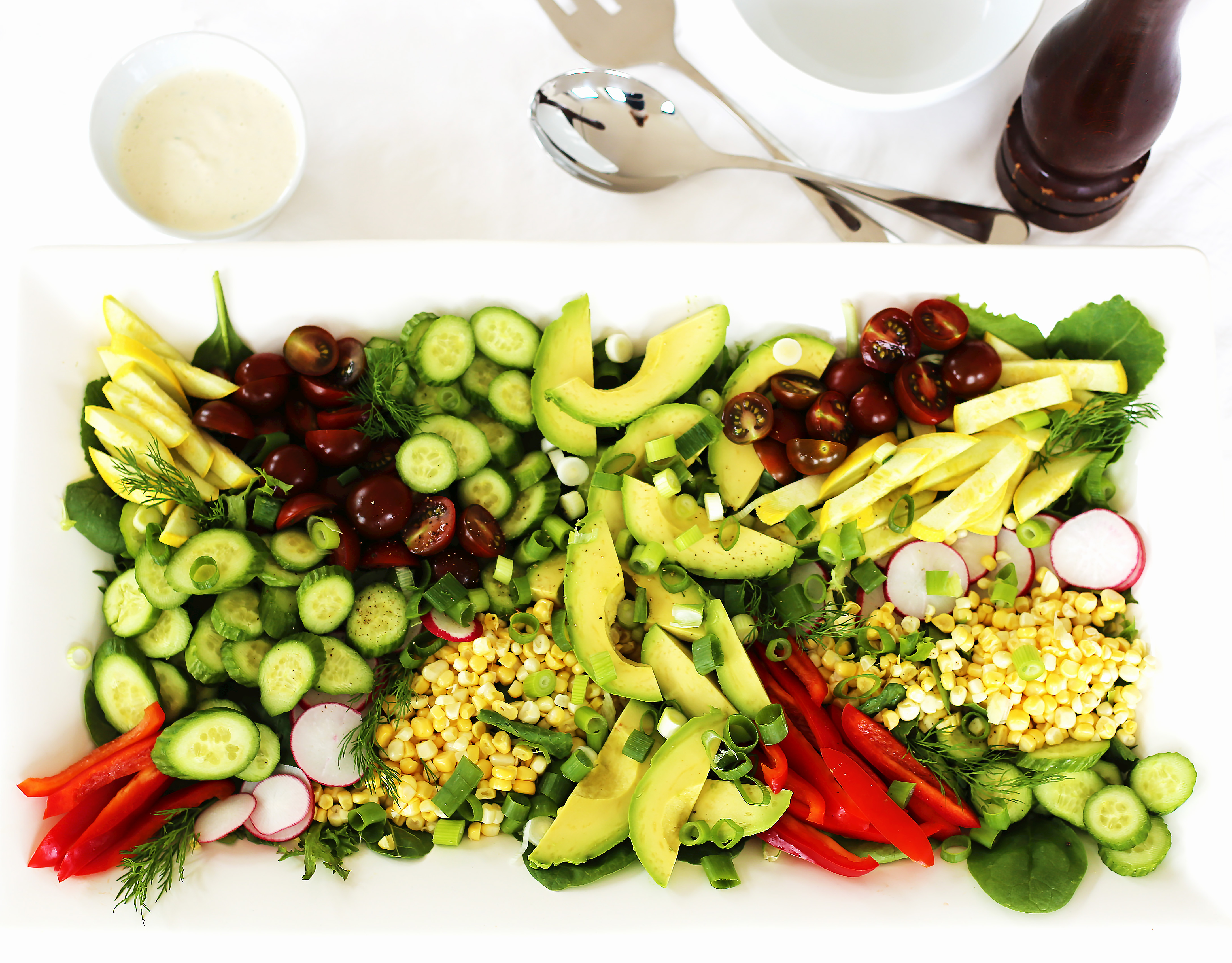 This market vegetable salad with vegan ranch dressing is going to be in heavy rotation this summer! It's like a vegan farmer's market version of a Cobb, where you have a little of this and a little of that, and you can tell with just a glance what is in the salad. If you want to swap out an ingredient or two, don't let me stop you. Feel free to be inspired by what's fresh at your local farmer's market.
This dressing, by the way, is off the charts. So tangy and creamy – full of herby deliciousness – the perfect accompaniment for all of those veggies.
To assemble the salad, start with a layer of your favorite market greens – I used baby spinach and baby kale, along with a few other greens. Then load on the veggies. I layered on sliced mini seedless cucumbers, fresh raw corn, baby Kumato tomatoes, sliced radishes, red bell peppers, yellow squash and green onions. Avocados play a central role because, well, avocados are always a good idea! Tuck in some sprigs of dill for a beautiful finishing touch. Season with salt and pepper.
I know that some of you might want to add a bit of cheese to this salad, so if that's you, be my guest. I am sure there will be times this summer that I will do the same. Crumbled queso fresco, ricotta salata or even a goat cheese are all good choices.
Market Vegetable Salad with Vegan Ranch Dressing
2016-05-29 11:57:19
For the Ranch Dressing
1 cup raw cashews
1 cup water
juice of 1/2 lemon
2 tablespoons chopped shallot
1 tablespoon apple cider vinegar
1 small clove of garlic
3/4 teaspoon salt
1/2 teaspoon nutritional yeast
1/8 teaspoon cayenne pepper
fresh ground black pepper
1 tablespoon fresh chopped chives
1 tablespoon fresh chopped dill
For the Salad
6 cups of your favorite market greens
2 cups mini seedless cucumbers *
1 1/2 cup mini Kumato tomatoes, sliced in half **
1 1/2 cups yellow squash, sliced into 1/4 inch sticks
1 cup red bell pepper, cut into strips
2 ears of fresh corn, kernels sliced off of the cob
1/2 cup sliced radish
1 avocado, sliced
2 green onions, chopped
fresh dill for garnish
kosher salt and pepper
For the Ranch Dressing
Soak your raw cashews in enough water to cover them for two hours.
When your cashews are done soaking, transfer them to a high speed blender and discard the soaking liquid.
Add the cup of water, lemon juice, chopped shallot, apple cider vinegar, garlic clove, salt, nutritional yeast and cayenne pepper to the blender.
Add a few turns of freshly cracked black pepper to the blender as well.
Pulse your dressing in the blender until it starts to come together and then blend until totally smooth.
Add your chopped chives and shallots to the blender. Pulse until your herbs are incorporated into the dressing. You still want to be able to see bits of the herbs.
Chill dressing until serving.
For the Salad
Distribute your greens on the base of your serving platter.
Arrange the cucumbers, tomatoes, yellow squash, bell pepper, corn and radish in groups on top of the greens, leaving space for the avocado down the center of your platter.
Arrange the avocado slices down the center of your platter.
Sprinkle the green onions over your avocado as well as the rest of your salad.
Tuck in some fresh dill sprigs into your salad for garnish.
Season your salad with salt and pepper.
To Serve
Pour your ranch dressing into a small bowl and serve alongside the salad. Enjoy!
Notes
You can substitute English cucumbers if you can't find a smaller variety.
If you can't find the mini Kumato tomatoes, substitute grape tomatoes or another small variety.
Kitchen Below Canal http://www.kitchenbelowcanal.com/
Comments
comments