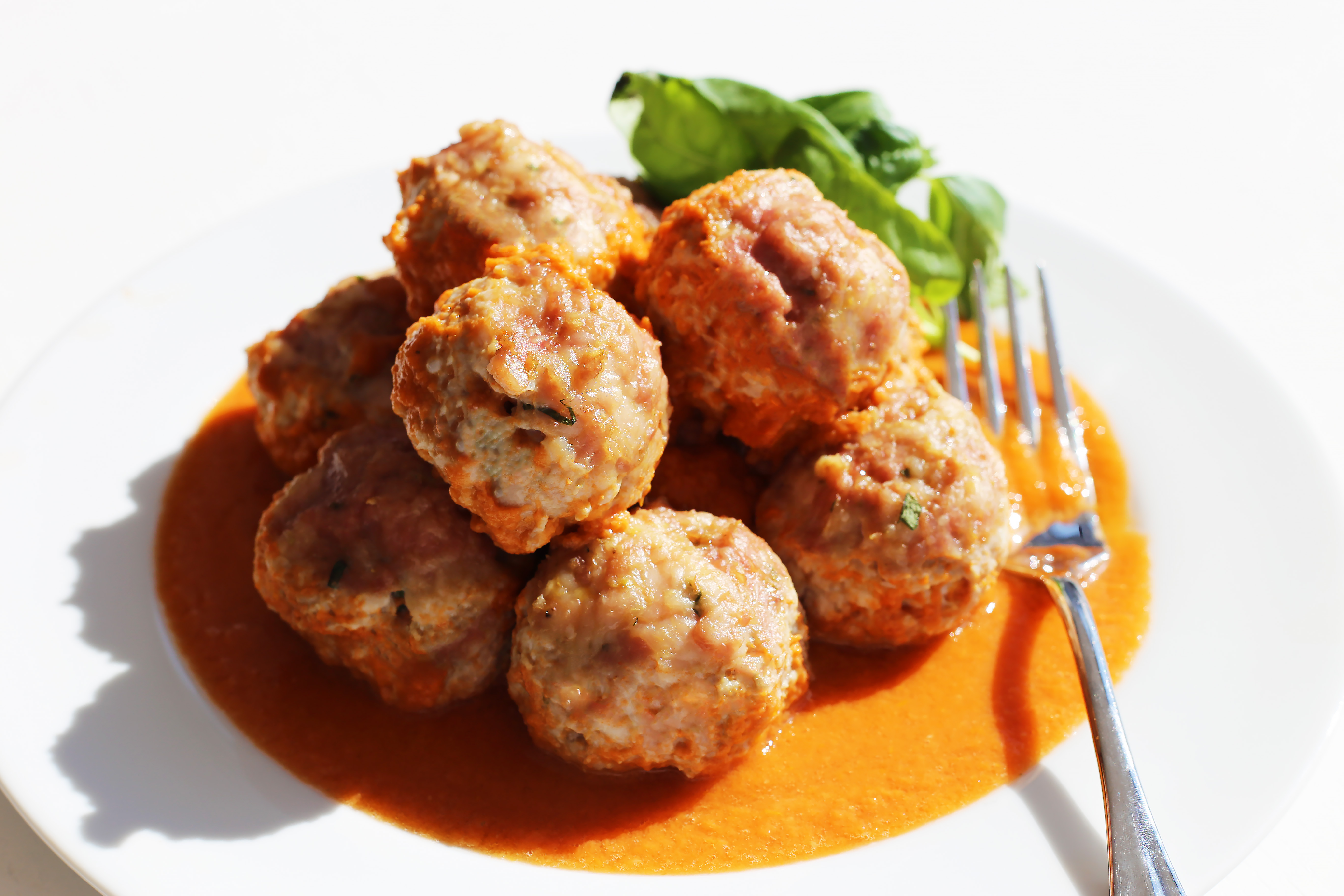 These gluten-free, paleo turkey meatballs are the bomb! They're light and savory and melt-in-your-mouth delicious. Who needs another meatball recipe, you ask? You do. These are free of glutinous fillers and made with fresh, not canned, tomatoes.

If you're wondering if that means a lot of work for you, it doesn't. There's no peeling tomatoes and there's not a lot of chopping either. Your blender does the heavy lifting for you. This sauce is lighter and more brothy than your standard tomato sauce – that is by design – but the finished product is still soul-satisfying comfort food. I love these meatballs with some sautéed greens and cauliflower; my husband and kids prefer them with pasta.
However you serve them, if you're looking for a nutritious crowd pleaser, this is it!
Easy Turkey Meatballs with Fresh Tomato Sauce
2015-11-19 10:00:28
For the tomato sauce
2 ½ pounds fresh, ripe Roma tomatoes
2 cups chopped white onion
4 cloves garlic, chopped
1 tablespoon olive oil
¼ cup rough chopped basil
1 teaspoon dry oregano
2 teaspoons salt
For the meatballs
1 large egg
2 lbs. ground turkey
2 basil leaves, finely chopped
1 ¾ teaspoons salt
½ teaspoon dry oregano
½ teaspoon ground cumin
½ teaspoon onion powder
¼ teaspoon garlic powder
Instructions
Preheat oven to 450 degrees.
Cut the tomatoes in half. Remove the tough bits from the tops of the tomatoes. Put the tomatoes in a high speed blender. Pulse the blender a few times just to get the tomatoes going. You will be adding some other ingredients in your blender shortly.
Heat your olive oil in a skillet over medium-high heat. Add your chopped onions. Sauté until soft and translucent, about two to three minutes. Add your garlic. Cook for a minute or two more. Do not let the garlic brown.
Add the onion and garlic mixture to your blender. Add ¼ cup of chopped basil, 1 teaspoon of dry oregano and 2 teaspoons of salt. Puree the sauce until totally smooth.
Pour the tomato sauce into a 13x9 baking dish.
Now it's time to make your meatballs. Put the egg in a large mixing bowl. Whisk lightly. Add your ground turkey, two finely chopped basil leaves, 1 ¾ teaspoon of salt, ½ teaspoon dry oregano, ½ teaspoon cumin, ½ teaspoon onion powder and ¼ teaspoon of garlic powder. Mix well. You may feel like the turkey mixture is too loose but don't worry. The mixture is a bit messy but I promise you light, delicious meatballs in the end!
Now you are ready to start forming your meatballs. It helps to know that you want to end up with twelve meatballs in your 13x9 baking dish. Start by roughly dividing your turkey mixture into four sections. I simply score the mixture with a knife to do this so that I can see four roughly equal parts. Each of the four sections will then be divided into three balls.
Now dive in there and get to work! Form a meatball. Put it in your baking dish. Keep going until all of your meatballs are in there. Don't fret that they aren't perfect spheres. This isn't a geometry lesson.
Once all of your meatballs are in, place the uncovered baking dish in the oven. Cook the meatballs for 30 to 35 minutes. Remove your baking dish from the oven. Cover loosely with foil for 15 minutes. Uncover. Give the sauce a gentle stir. (It will have separated a bit during cooking.) Then serve as you like.
I love these meatballs over some sautéed greens and cauliflower. My family is all about the pasta!
Kitchen Below Canal http://www.kitchenbelowcanal.com/
Comments
comments