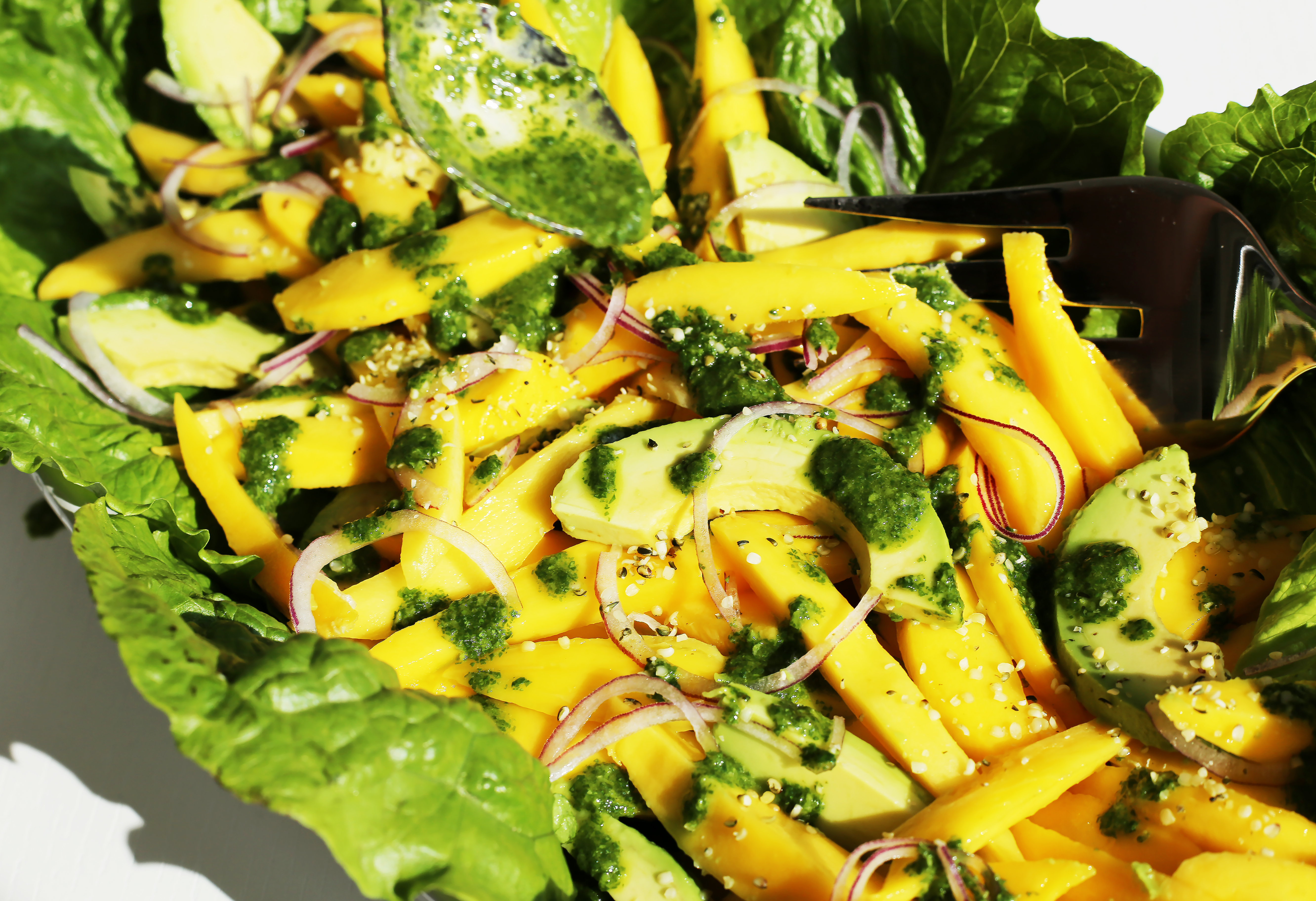 Champagne mangos, also known as ataulfo mangos, are piled high at my local market and that inspired this champagne mango and avocado salad. If you haven't tried champagne mangos, you should! They're deliciously sweet with a buttery texture that is more akin to a Hawaiian papaya than the larger, more fibrous mango varieties. And they're so good you can just peel them and eat them right down to the pit at your kitchen counter. Don't even get me started on this basil-lime vinaigrette. Basil, lime, honey – I can't even tell you how well this combo compliments the mangos. When I was done shooting, I found myself dipping mango slices directly in the bowl of dressing.
So here you go. Bah-dah-bing, bah-dah-boom! Because salads are about more than just lettuce.
Champagne Mango Salad with Basil-Lime Vinaigrette
2016-04-11 10:16:17
For the salad
1 1/2 avocados
3/4 tsp freshly squeezed lime juice
1/4 + 1/8 teaspoon salt
5 champagne mangos
1/4 cup thinly sliced red onion*
1 teaspoon hemp seeds (for serving, optional)
For the vinaigrette
2 cups basil**
1/3 cup olive oil
1 tablespoon plus two teaspoons honey***
2 tablespoons lime juice
1/2 teaspoon salt
For the salad
Cut your avocado into slices, about 1/4 inch thick.
Transfer the slices to a large mixing bowl.
Add the 3/4 teaspoon of lime juice and the salt. Gently (and I mean gently :) stir the avocados in the lime juice and salt. You don't want to break up your avocado.
Remove the peel of your mangos using a vegetable peeler. (I prefer the wide horizontal peeler for this job.)
Slice off the two halves of your mango as close to the pit as possible.
Slice each mango half into 1/4 inch slices.
Add the mango slices and red onion to the bowl with the avocado.
Gently (!) stir them together so that the ingredients are evenly dispersed.
For the vinaigrette
Place all ingredients in a food processor (I use a mini food processor for this). Process the vinaigrette until it is fairly smooth but you can still see bits of basil leaves.
To serve
Transfer the salad to a serving bowl.
Sprinkle the hemp seeds on top of the salad.
Drizzle the top with the basil vinaigrette.
Serve the remainder of the vinaigrette in a small bowl alongside the salad.
Notes
* To slice your onion, first cut the onion in half, leaving the root end intact so that the onion stays together while you are slicing it. If you have a mandoline, use it to slice the onion almost paper thin. If you don't have a mandoline, use a sharp knife and slice the onion as thinly as possible.
In real life, I wouldn't measure the onion; I would just eyeball it. But roughly, you will add about 1/4 cup of very loosely packed red onion. (Remember that it's easier to add more than it is to take away.)
** I use stems and all for the basil vinaigrette. You do not need to remove the leaves from the stems.
*** Honey is not vegan. If you would like to keep this recipe vegan, substitute your favorite vegan sweetener to taste.
Kitchen Below Canal http://www.kitchenbelowcanal.com/
Comments
comments